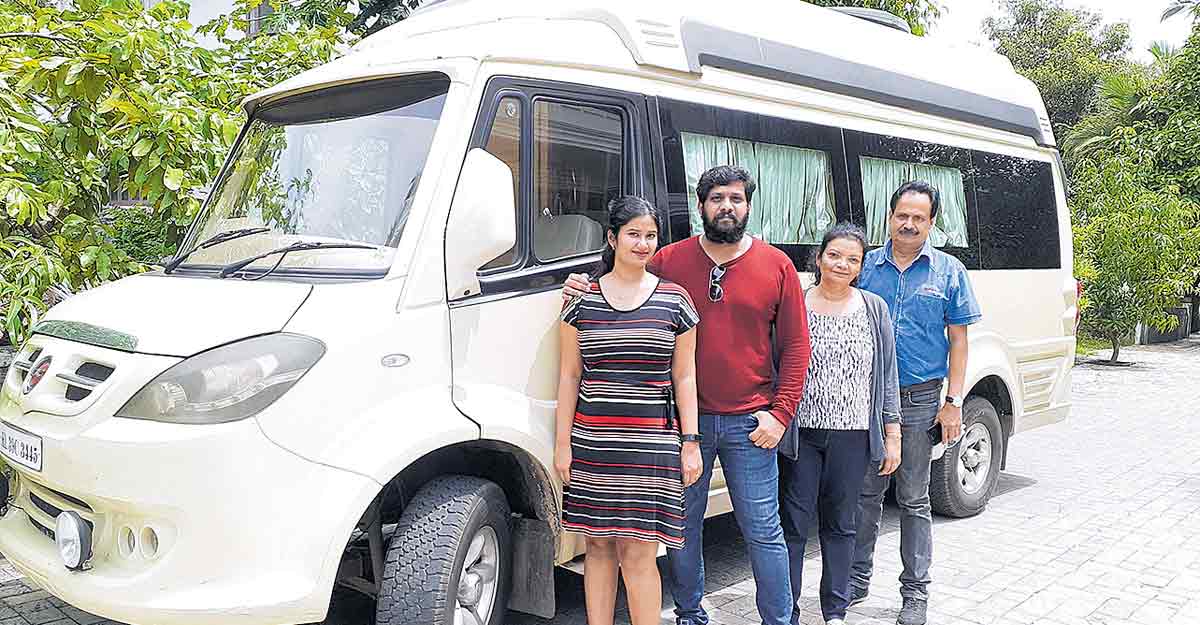 A long trip of 4,000-km would excite any travel lover. It would take the traveller to a number of locations with different sceneries and diverse cultures. However, such a journey when lockdown is in place due to the COVID-19 pandemic will offer no excitement. Even in such an adverse situation, Jubil Rajan P Dev, son of the late actor Rajan P Dev, was forced to set out on a trip to Gujarat from Kerala. His mission was to bring his pregnant wife back.
"There was no room for hesitation or fear. I had no option but to travel to Ahmedabad in Gujarat to bring my carrying wife Riya back to Kerala," says Jubil.
When the lockdown was announced unexpectedly, Riya was with her parents at their house in Ahmedabad. She was seven months pregnant at that time and the family had planned the delivery at a hospital in the Gujarat city.
However, the situation changed all of a sudden. COVID-19 spread like wildfire in Ahmedabad and Jubil realized that Riya did not have the confidence or courage to continue in that city or deliver their child there.
"I desperately wanted to bring Riya to Kerala but all the trains were cancelled and a journey by car was unsafe. Moreover, we could not break the journey anywhere," Jubil explains his predicament.
Jayaram's gesture
Finally, he arrived at the only solution before him, which was to hire a caravan. "With a sleeping area and wash room, a caravan was the ideal vehicle for the trip. So I approached many caravan operators but most of them cited legal issues in crossing inter-state borders to refuse my request. But the words of Jayaram, who offered his caravan to me, were like those of a brother. Take my caravan. There's nothing to worry", he told me.
Jubil set out on his journey with a friend, Roy Antony. "All the roads were quiet and almost deserted due to the lockdown. However, there was police checking at several spots. We soon reached Bengaluru, where Riya's sister Reenu and her husband Binoy were waiting with food. For the first time, we greeted them without handshakes. Coronavirus had changed everything," says Jubil.
Some hiccups
Along the way, Jubil faced some tense situations on the Pune-Mumbai Express Highway. "We felt that the caravan had some trouble and found that the radiator was leaking. So, at a place called Vakad, we took the vehicle to a workshop. COVID-19 crisis was severe in that area and workshops were open only till 3 pm. The mechanic insisted that we leave the vehicle there that day as he could not repair it immediately. We pleaded with him but realized that there was no other way than wait till next day. When we reversed the caravan to park it properly, another problem arose. The caravan rammed a scooter behind it," says Jubil.
Even though the scooter did not suffer any major damage, some youths collected at the scene from nowhere and demanded a big amount from Jubil and Roy. "They picked up an argument and even threatened to beat us up. Realizing that only some acting would save us, Roy and I pretended to be poor drivers travelling to Gujarat to bring our employer back to Kerala. We beseeched them to leave us alone and the drama worked when we told them we had no money even to buy food," continues Jubil.
The local youths left, but they returned soon. This time, the youths were carrying food for us. "Now our eyes filled with tears. However, the tears were real; we were not acting," says Jubil.
The youths also arranged battery charging and drinking water for Jubil and Roy. "Their love and care proved to be an inspiration during the rest of the journey," says Jubil.
On the fourth day, the caravan reached Ahmedabad. "The sight of empty streets was a surprise," says Jubil.
Back to Kerala
During the return trip, Riya and her parents joined Jubil and Roy. "We cooked food on the way and parked the vehicle at night. When people saw pregnant Riya, they made arrangements to charge the caravan. I felt when everything was locked during the lockdown, the minds of people were set free," quips Jubil.
He winds up: "Now I don't believe that compassion has vanished from the world. Riya is now doing fine and when our child grows up, I would tell it, 'You are lucky to be here thanks to the big heart of several people in many parts of the country. That is something to be proud about."