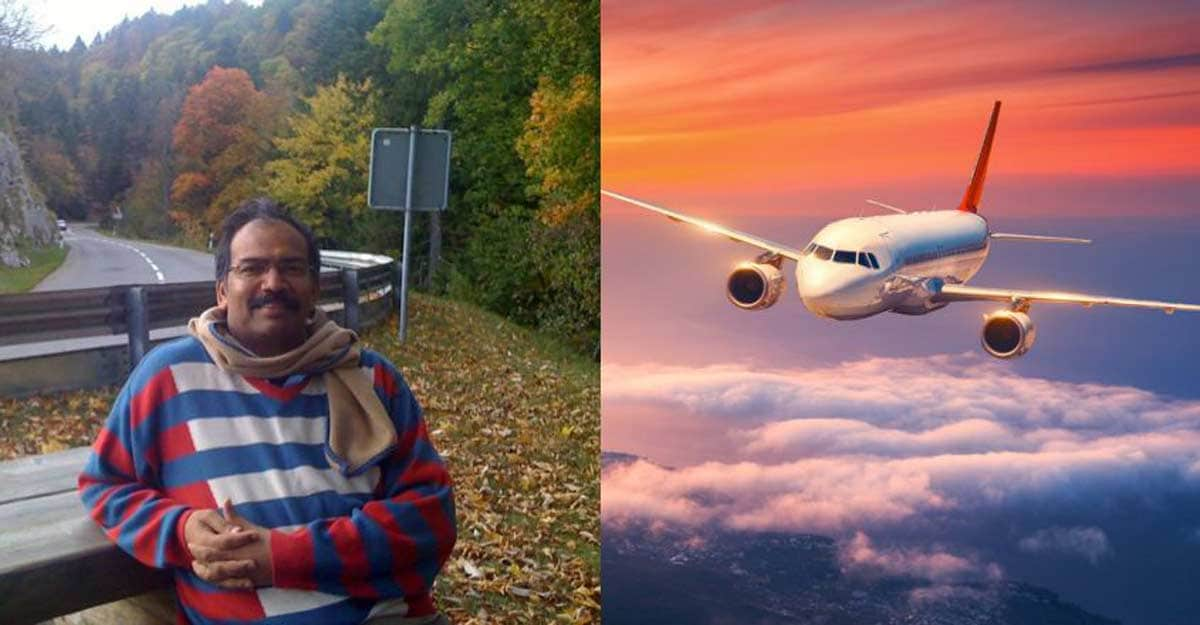 The COVID-19 pandemic has landed every country in deep crisis and also taught several valuable lessons to humanity. The world has advanced much but it has been helpless against an invisible threat.
As part of their efforts to tackle the pandemic, all nations closed their borders and imposed lockdowns. This led to a situation in which thousands of people were stranded at places far from their homes. Later, lockdown restrictions were eased and flights allowed. This helped many stranded persons to return home but still a large number of people avoided travel to remain safe.
At present, travel has resumed with the necessary precautions. People wear masks and maintain social distancing while venturing out of their houses. Meanwhile, a number of countries have imposed stringent rules, including a COVID-19 negative certificate, for entry to their territory.
Muralee Thummarukudy, an international expert in disaster risk reduction, had planned a return trip to Geneva, his workplace, from Kerala in September after the Onam festival. However, following the disasters at Beirut and Mauritius, he had to advance the journey. "I have now safely reached Geneva in Switzerland from Kochi. Travelling is gradually making a comeback," he says.
The route
"When I started the trip, there was some anxiety. However, except for some minor hiccups, everything was smooth. My route was Kochi – Delhi – Amsterdam – Zurich by flight and Zurich – Geneva by train. The travel time was 27 hours. Before the pandemic, I used to reach Geneva from Kochi via Dubai in 12 hours!" he explains.
Thummarukudy was expecting stringent checking all along the way but was surprised that it did not take place. "The travel agent had told me that the COVID-19 negative result and a doctor's certificate were mandatory. Considerable time was spent to obtain these documents. However, officials at four airports and three countries did not ask for these certificates," he says.
Thummarukudy was also told that the 'Arogya Setu' app had to be downloaded but that too was not checked. At New Delhi airport, the disaster expert was asked to give a self-declaration that he had no symptoms of COVID-19 and that he wasn't travelling from a containment zone. "When I landed at Zurich, the airport authorities noted down my seat number and place of stay," he informs.
Even though Thummarukudy travelled wearing a mask, gloves and a disposable coverall for his entire body, the airlines did not seem to be insisting on so many safety measures. "Air India asked all passengers to wear a mask and face shield. In fact, the shield was supplied to all travellers at Kochi airport. In addition, passengers on the middle seats were given a disposable full-sleeve apron. Lufthansa distributed masks, shields and coveralls to all passengers travelling to Munich. But KLM gave only masks and shields with the instruction that the mask should be changed every four hours," says Thummarukudy.
Security checks
A major difference the disaster expert noted was the relaxed security checks at airports. "Nowhere was I asked to remove my shoes for the check. Moreover, even one-litre water bottles were not offloaded," says Thummarukudy.
An ordinary metal detector was attached to the end of a pipe for the checking. At some airports, thermal screening was done.
"On the flight to Delhi, a bottle of drinking water was given to passengers. Except before take-off and landing, the air-hostesses kept away from the passengers," says Thummarukudy.
On KLM flights, each passenger was given a package full of eatables, including water. However, there was no serving of food later. Duty-free shopping during the journey too was missing.
"But coffee is served on the flights in Europe," informs the disaster expert.
Safety measures
Thummarukudy noticed that all safety measures related to the pandemic were followed at Kochi airport. "Everyone was aware of the threat posed by the disease. Handwash, spray, face shield and mask were sufficiently available," he says.
However, nobody cared for social distancing norms at New Delhi airport. "People were arriving from early morning for even flights at midnight and crowding outside. There was no space to sit. As passengers would be allowed entry to the terminal only four hours before departure, there was a big rush. People were queueing up for over an hour at the gate," according to Thummarukudy.
Such crowding needs to be avoided during the times of the pandemic. "This can be done by allowing all ticket-holders to enter the terminal," says the expert.
The Swiss situation
Thummarukudy says that the daily per capita COVID-19 cases in Switzerland are the same as Kerala. "But life goes on normally as before the pandemic struck, except that everyone is wearing a mask," he adds.
Trains and buses are plying with full capacity; no social distancing is enforced in restaurants and children are playing in parks. "It is reported that schools will reopen in September. Personally, I feel that schools in Kerala also should start functioning as early as possible," says Thummarukudy.
At his house in Switzerland after several months, the disaster expert found that nothing had changed, other than a pile of bills to be paid. Even though Indians need not stay in quarantine after arriving in Switzerland, Thummarukudy decided to self-isolate himself for a week. Afterwards, he is planning to fly to Beirut.
Tips to travel abroad
The disaster reduction expert offers valuable advice to people who wish to travel abroad from India. It includes:
1. The decision to travel to a workplace or place of study in a foreign country depends on various factors. Nature of your job abroad, whether the work can be done from India, whether the foreign employer is in favour of your working from India, how children's education and their social life would be affected, the COVID-19 situation in the foreign country and the effectiveness of the health infrastructure there are among them. "A risk has to be taken, but there is nothing to worry about the flight journey," feels Thummarukudy.
2. After a decision to fly abroad has been taken, select the shortest route with minimum connections. More time spent in an aircraft and interactions with many people increases the risk of infection.
3. If you can afford a business class ticket, go for it to reduce the risk. In economy class, demand a window seat, where chances of coming into contact with people are less.
4. Spend minimum time at the airport. Online check-ins offered by airlines such as Air India could be utilized. Avoid queuing up at the airport and follow social distancing norms in seating and other matters.
5. Always wear a mask. Gloves as well as other personal protective wear such as coverall and caps could be used. Full-sleeve clothes too are a good idea. However, most people only wear a mask and face shield, says Thummarukudy.
6. KLM advises passengers to change masks every four hours. This has to be diligently followed on all flights and sufficient numbers of masks need to be carried during the journey.
7. Carry enough food and water, especially when children accompany you.
8. One of the most useful items during a flight is a small bottle of sanitizer. It helps clean the toilet seat and other seats.
9. Take a pen. Forms may have to be filled while entering many countries.
10. While travelling in India, Arogya Setu app is useful and for foreign trips, carry out a test for COVID-19.
11. Travelling could be a gloomy affair these days as nobody smiles. So, include books dealing with positive topics in the baggage.
"Every journey by air carries some risk. But comparing it with other risks helps matters. I feel there's nothing too dangerous in taking a flight," says Thummarukudy.
"As per my present plan, I will be back in Kerala during October and would be more active in matters there as my work could be carried out through webinars and interviews. Moreover, Kerala would be witnessing the Assembly election in 2021," winds up the international expert.