Are you aware of this quaint little village that connects three main districts in Kerala, namely Pathanamthitta, Kollam and Alappuzha? Oonnukal which originated during the time of the Travancore King's rule stands on the border linking Alappuzha's Palamel Panchayath and Pathanamthitta's Pallikkal panchayat. And interestingly, Kollam's Kunnathur panchayat is also sharing its frontier. There is a story behind that quirky name.
Thamarakkulam Madhavapuram was one of the main streets that was considered as one of the main development projects of the Travancore Diwan Madhavarayar. This Oonnukal was right in the middle of the road leading to the street. It was intended to be a resting place for travellers, or rather to keep their baggage over it and take a much-needed rest. Initially when Travancore and Thiru-Kochi was formed this village was part of Kollam. When Alappuzha came into form in the beginning followed by Pathanamthitta this village was the border linking Alappuzha, Pathanamthitta and Kollam.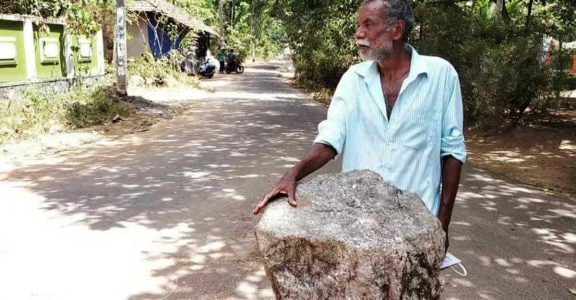 So, if you turn Eastwards from the Oonnukal, it takes you to Pathanamthitta, Southwards to Kollam and North-West to Alappuzha. Since it is the border village, the villagers must rely on all three districts for their daily needs. Electricity comes via the KSEB branch of Pathanamthitta. Even water has to come from Pathanamthitta. So, they are forced to depend on Pallikkal Panchayat regarding the streetlights than Palamel Panchayat. Although there was bus services earlier, to travel to Alappuzha they require to either take a private vehicle or walk. To even get a bus to Kollam and Pathanamthitta they have to travel quite a bit.