Thiruvananthapuram: Tasting sweet success in its unique venture of converting old buses of the Kerala State Road Transport Corporation (KSRTC) into light refreshment stalls, Milma is all set to implement the project at 40 new locations by December this year.
Under the 'Milma bus on wheels', the milk cooperative takes buses that are to be scrapped from the KSRTC on lease and converts them into stalls selling Milma products and light refreshments. As many as 32 products of Milma are available from the 'bus-stall.'
Moreover, there is space for eight people to have light food. As low-floor air-conditioned buses also are converted into Milma stalls, customers can shop and eat in cool comfort.
The venture was launched at 10 major locations close to KSRTC bus stations in Kerala during September last year. Even amid the pandemic, each bus earned revenues of around Rs 1 lakh every month for Milma.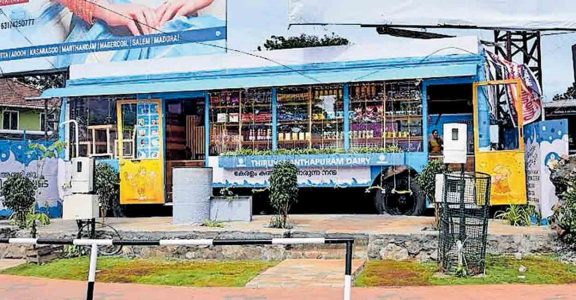 After taking the buses from KSRTC on 10-year lease, Milma pays the transport corporation a monthly rent of Rs 20,000 for each vehicle. In addition, a security deposit of Rs 2 lakh is also transferred. The charges for converting a passenger bus into a stall amounting to Rs 5 lakh are also met by Milma.