Thrissur: Thrissur pooram is set to make a return in all its grandeur after a pandemic-induced hiatus of two years.
The State government instructed the district administration and devaswoms concerned to prepare for the mass festival, scheduled for May 10.
Pooram, resplendent with caparisoned elephants in accoutrements, and display of colourful parasols with a huge enthused crowd soaking in the percussion music and culminating in fireworks display, has been an integral part of the State's culture and pride.
A meeting attended by Devaswom Minister K Radhakrishnan and Revenue Minister K Rajan at Thiruvananthapuram on Monday, tentatively decided to hold the pooram, adhering to COVID-19 protocol. A ministerial-level meeting by mid-April would make the final decision on the pooram.
With Thrissur reporting only nine fresh COVID-19 cases on Tuesday, a restriction on crowds is not likely this year. In 2020, only the rituals were held as part of the pooram. The procession as part of the festival, and rituals, were held with limited people in attendance in 2021.
Apprehensions over holding the pyrotechnic display, too, were cleared on Tuesday with the government directing the district collector to apply for the required permission from the Petroleum and Explosives Safety Organisation (PESO).
The selection of elephants, too, would be held as in pre-COVID years. As many as 70 elephants would be required for the participating Paramekkavu and Thiruvambadi sides (deshams), and the eight allied poorams from nearby temples.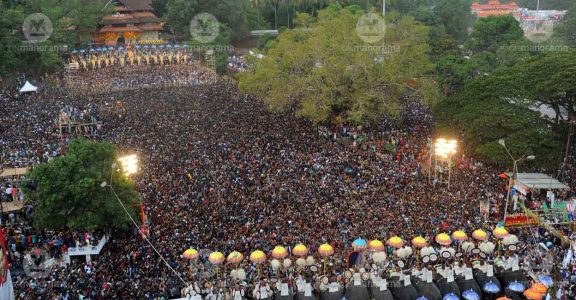 The exhibition ahead of the pooram would be thrown to the public next week. However, the government is holding another exhibition at Thekkinkadu Maidan, despite the Paramekkavu and Thiruvambadi devaswoms requesting to postpone it. The exhibition raises the fund for holding the pooram, and loss of temple revenues may dampen the festival.
Monday's meeting also instructed the departments concerned to report to the collector after completing all pooram-related works in a time-bound manner.
Besides the ministers, P Balachandran, MLA, Thrissur Corporation Mayor M K Varghese, Additional Chief Secretary (Revenue) Dr A Jayathilak, Principal Secretary (Devaswom) K R Jyothilal, Deputy Inspector General of Police (Thrissur range) A Akbar, District Collector Haritha V Kumar, Thrissur City Police Commissioner R Aadhithya, and others attended the meeting.