Guruvayur Devi, Mahalakshmi Parvathi, Planthottam Meera, Kumaranellur Pushpa… nine majestic 'ladies,' who not only have such heavy-duty names but also elegant persona to win over any temple festival enthusiast are all set to reach Kodungoor in Kottayam today.
As the Devi temple here hosts its yearly Meenappooram festival, nine cow elephants will be paraded in all their elegance to celebrate the 'Penpooram' segment of the event. The event starts at 12 noon. 
While temple processions featuring solely cow elephants aren't a novelty, the one lining up nine of them exclusively is a unique event, claims organisers. 
The temple advisory committee secretary Renish Kumar V C said, "As part of the tradition, we have been only parading cow elephants for the festival at this temple. Since the pandemic hit, the festival was held on a small scale for the last couple of years. So, we decided to make it a grand event, featuring nine renowned cow elephants, from all over the state, this year. A procession featuring so many cow elephants is something unique."
Thottakkad Panchali, Plathottam Beena, Venattu Mattam Kalyani, Thottakkad Kunju Lakshmi and Venattumattam Chembakam are the other female jumbos taking part in the procession.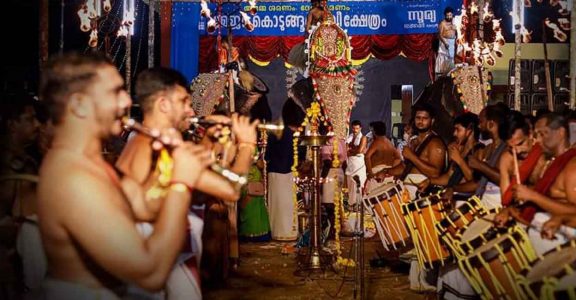 The event will have one elephant each arriving at the temple with 'kaavadi aattam' (folk dance) from nine different areas. "There will be an 'aanayoottu' ceremony after that. The 'penpooram' or 'pidiyaana pooram' gajamela will follow this event. The festivities will be on till about 11 pm," said Renish.
He revealed that finding nine cow elephants for the 'pooram' was no easy task. "It's the season of temple festivals. The same day on which the Kodungoor festival is on, there are ceremonies scheduled in a couple of other temples too, where only cow elephants are featured," the secretary said.
However, according to Raneesh, they could bring the best and majestic of the lot to Kodungoor. "For instance, the cow elephant named Guruvayoor Devi is credited with carrying Lord Krishna's 'Thidambu' (deity's miniature) during its famed rituals. She is also the one who is often tasked with the 'sheeveli' ceremony," he said, signing off. 
How to reach:
40 minutes via NH183 from Kottayam Railway Station, towards Idukki
41 minutes from Nagambadom Bus Stand via NH183 towards Idukki