Thiruvananthapuram: Prime Minister Narendra Modi  inaugurated Kerala's Vande Bharat Express at the Thiruvananthapuram Central Railway Station here at 10.30 am on Tuesday. 

Kerala Governor Arif Mohammed Khan, Chief Minister Pinarayi Vijayan and  Central Railway Minister Ashwini Vishnaw, among others, were part of the function.
On the inaugural day special service, in addition to the already sanctioned stops, the train will stop at Kayamkulam, Chengannur, Tiruvalla, Chalakkudy, Tirur, Thalassery and Payyannur. 
Regular services
The regular service will start on April 26 from Kasaragod, and on April 28 from Thiruvananthapuram. The service has already seen tremendous response after the booking started on April 23.
Ticket rates
The travel from Thiruvananthapuram to Kasaragod would cost Rs 1,590 in the Chair Car while the ticket rate is Rs 2,880 in the Executive Class of the train. The return travel charges from Kasaragod to Thiruvananthapuram are Rs 1,520 for the Chair Car and Rs 2,815 for the Executive Class. This includes the charges for the food served on board. While booking the ticket, one can also opt not to get the food on board.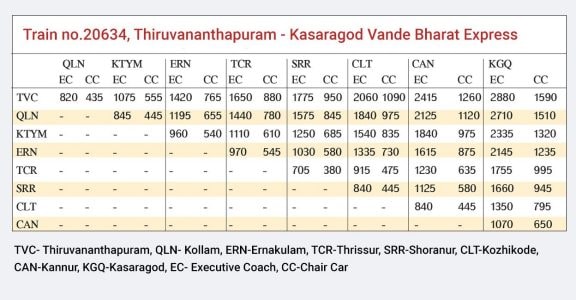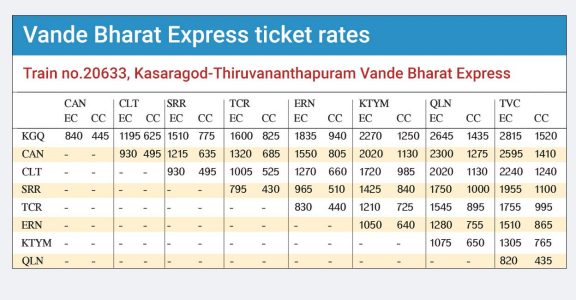 The ticket rate would be reduced accordingly if the traveller does not require food.
On the onward journey from Thiruvananthapuram to Kasargod, tea/ coffee, biscuits, breakfast and lunch would be served. As there are three meals included in the onward journey, the ticket charge is high inclusive of the food. On the return journey from Kasaragod, evening high tea and dinner - two meals would only be served. The ticket rate for the return journey is lower because of this difference in the number of meals served. If the traveller opts out of the food option, the ticket rate is the same for both onward and return journeys – Rs 1265 for Chair Car and Rs 2500 for the Executive Class.