The flag-hoisting of the renowned Thrissur Pooram festival, which is scheduled for April 30, will be held both at Thiruvambadi and Paramekavu Temples between 11.30 and and 12 noon, today. A procession will also be held from Thiruvambadi temple at 2.30 pm.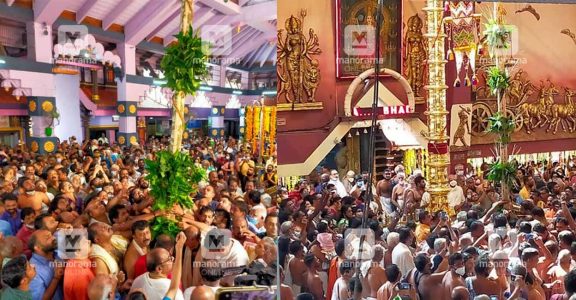 Elephant Paramekkavu Kasinathan will carry the idol of the deity from Paramekkavu temple. Flag hoisting will also be held at eight other temples that are participating in the festival.
Poorachamayam exhibition
The poorachamayam exhibition, which displays elephant accoutrements of both the temples will be on from Friday at Kausthubham Auditorium and Agrasala 
Sample fireworks
The 'sample vedikettu' aka fireworks will also be held on April 30. The main fireworks display will be on the eve of May 1, on which the Pakal Pooram will be held. 
Interestingly, the chief attraction of the fireworks are  the reverberations created by "kuzhiminnal" and "Koottaporichil" pyrotechnics. The preparations for the fireworks by Thiruvambadi and Paramekkavu are nearing completion. The efforts of over 40 persons who have been toiling for days together are behind the fireworks. 
K Rail, Vande Bharat 'amittus'
Every year,  amittus (a type of aerial firework) are named differently by the local people.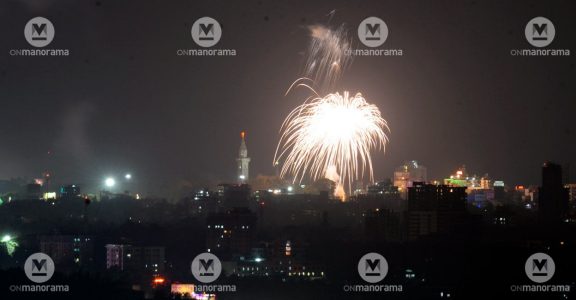 This time around, K-Rail and Vande Bharat are the names given to the amittus. Thrissur city has not received summer rain till now. The local people are praying that rain might stay away from April 29 to May 1. More people may be allowed to watch the fireworks from the Swaraj Round this time. In the past few years there were severe restrictions on allowing people at the Swaraj Round.