Panaji: Goa is not just about beaches and parties, and travellers can experience the actual traditions, history and more of the state, soon. Goa will soon roll out a 'homestay policy' that aims to take tourists to the heart of the state. Tourism Minister Rohan Khaunte said that the new roadmap positions the coastal state as a 365-day destination 'beyond beaches'.
In an interview with PTI, he also shared that the vision of 'Goa Tourism 2.0' emphasises "quality over quantity" and responsible and sustainable practices that respect nature and are in consonance with local culture.
The minister said Goa Tourism's new caravan policy is also likely to be rolled out in a month's time.
"Goa has always been a preferred destination for tourists, known for its beautiful beaches, and we are known for our party life, more of a different culture. But Goa is much more than that... and unfortunately in the past, we have not been able to get that thought changed, that perception about Goa," he said.
Goa beyond beaches
Goa is about rich traditions, rich culture, great food, great people, great eco-tourism, a lot of opportunities for adventure, and many things happening. And, that's why "we need to stitch things together," he asserted.
"So, right now with the whole thought process of what Goa has been when we talk of Goa for its beaches, its party life. Today, we move with the hashtag of #GoaBeyondBeaches, and Goa beyond beaches has been a thought process post-Covid when we have realised that we need to look at tranquillity, immersiveness, and that is exactly what tourists today are looking for," Khaunte said.
"We need to look at more quality tourists coming in than the numbers. The number game has to stop because tourism is the main vertical for the state. We need to ensure that it gives the right path to the economy and employment, and being a major churner of the industry in the state, we need to get our things right," he said.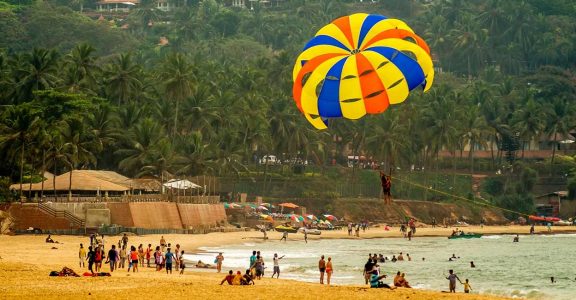 Goa government has been talking in the last few months, about moving the focus of the state's tourism sector to areas such as spirituality and wellness, eco-tourism, rural tourism and much more, and not fixating on the idea of sun, sand and surf that Goa has traditionally been popular for.
"The new process of Goa tourism, I would say Goa tourism 2.0, has already started, which we today would like to include on a larger scale, rural tourism, eco-tourism and hinterland, and to stitch to that we have a path where we would like to include our various festivals, great traditions, great food, homestays, spirituality," Khaunte said.
100 houses in the first phase
Asked about the homestay policy, he said it will let tourists travel away from the coastal area and into the rich hinterland, he said. "This will take tourists right into the heart of Goa and make them experience the actual traditions and culture of Goa. This policy will outline 100 houses in the first phase, located only in rural belt, areas such as Bicholim. The policy is expected to be rolled out in a month's time, along with the caravan policy of the tourism department," the minister said, adding, that about 60 per cent of land parcel in Goa is in the rural belt. Homestays will also allow people to experience the local culture, traditions, festivals, cuisine and much more, he said, adding "We have signed an MoU with Airbnb". A top official in the Goa tourism department said Airbnb will provide capacity-building, training for owners of such properties. The new caravan policy entails operators running a recreational van so that one is not constrained by itinerary as one is in a hotel stay. It will also include setting up a caravan park where the plan is to provide utilities, sanitation services, vehicle charging points, etc, the official said.
A rich history
Khaunte said Goa has very old temples and churches, but its history is even richer. "We have Saptakoteshwar Temple, waterfalls, we have many things. But, still, there are many things to explore, and many things to understand... And, to understand Goa in the right sense and the right flavour, that's exactly what we are trying to position, Goa, as a 365-day destination, where one gets a personal feeling within the space, rejuvenation happens. It is no longer seasonal tourism," the minister said.
Emphasising that Goa is also known as 'Parshuram Bhoomi', he said the tourism department has envisioned creating "a civil infrastructure" wherein inside there will be various facilities, and which from outside will look like a bow, and which will end up on the seaside. "As per the legend, Lord Parshuram had shot an arrow and it moved the sea away, from which 'Goa' had emerged," he said.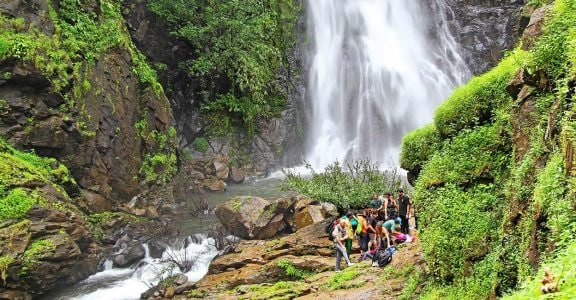 'Digital nomad visa'
The minister said about 10-15 acres of land on the seaside will be needed for this project. "It's a thought. But, to make it happen, it's not only through the state government but will have to make it happen through Union ministries. And, we look forward to support from the Ministry of Culture and the Ministry of Tourism. We are trying to get it executed under both the ministries together, as an 'iconic destination'," he added. He also underlined that the 'digital nomad' fraternity is a growing tribe and "about 46 countries mapped under it".
"These people (who want to work from home, away from home) need creative space and quality of space, and Goa gives this by default. This vision works for the long haul, and we are trying to talk to the Centre to get a digital nomad visa issued for such tourists. If this visa thing gets cleared, we will start getting a new set of tourists on a long haul, they will complement homestay policy, contribute to the economy, talent pool generation and capacity building," he said.