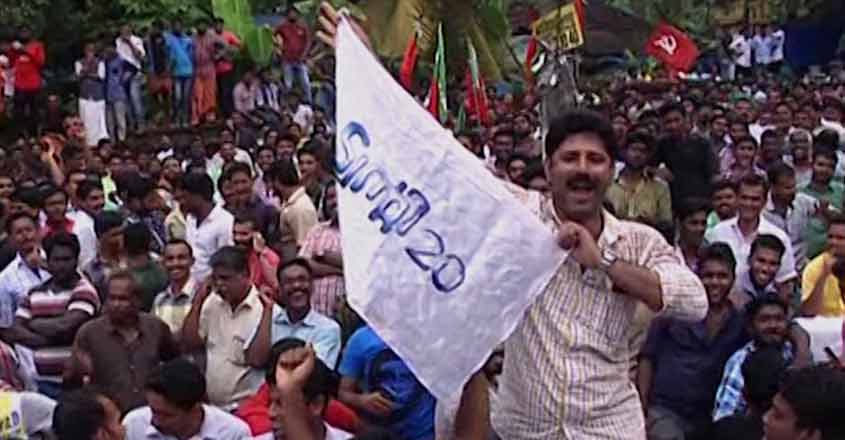 Kochi: The police on Monday registered a case against Kizhakkambalam panchayat president Jincy Aji and member Hafiz Hydrose under Section 341 of Indian Penal Code for allegedly attacking a woman journalist and cameraman at Kizhakkambalam.
A senior police official said a case has been registered based on a complaint from Asiaville multimedia producer Riya Mathews.
According to the complainant, Jincy and Hafiz attacked her and cameraman Rahil Hari when they arrived at the gram panchayat office to cover the development activities of the local body.
A non-profit organisation – Twenty20 – had won the election in Kizhakkambalam in 2015.
The journalists were attacked when they were interviewing former panchayat president K V Jacob and other members who had resigned from Twenty20.
The complainant said the attackers shouted no one would be allowed to shoot any negative news against the gram panchayat. They also tried to snatch the camera from Rahil and delete the visuals.
Jincy's denial
Meanwhile, Jincy denied attacking the journalists and said she and her colleagues only questioned them for shooting inside the panchayat office without the permission of the president or secretary.
Jincy said she has filed a complaint against the journalists at Pattimattom police station.
Dissent in Twenty20
Twenty20 Kizhakkambalam, according to its website, is a charity outfit floated by the Anna-Kitex Group to effectively contribute to the social and economic development of Kizhakkambalam with an aim to make it the best developed village in India by 2020.
K V Jacob resigned as panchayat president in January ahead of the no-confidence motion planned against him by the panchayat committee and backed by 14 members of Twenty20.
After quitting, he slammed Sabu M Jacob, Twenty20 chief coordinator and managing director of Kitex Garments Ltd, alleging he was trying to bring autocracy in the panchayat committee.
Sabu, however, rubbished the charges and accused Jacob of corruption.
Twenty20 came to power in 2015 after winning 17 out of 19 seats.