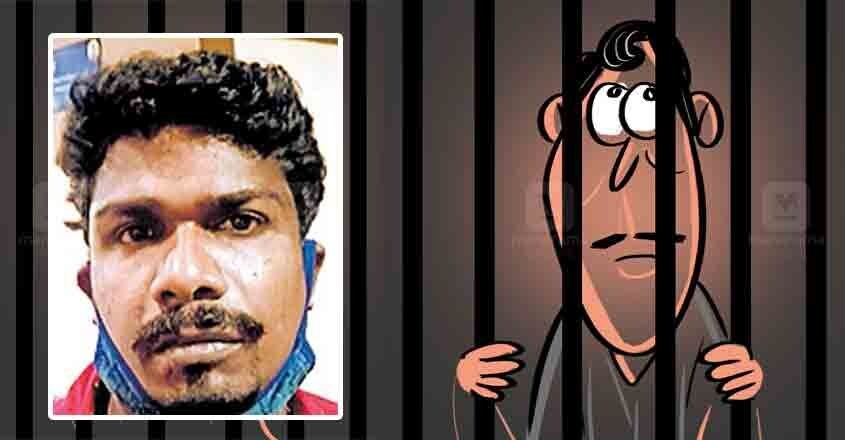 Kalamassery: The accused in a robbery case escaped from custody three times within ten days, leaving the authorities baffled. The latest escape of Kandolikkudy Suresh (38) alias Dracula Suresh of Chemmala Colony in Vadayampady was from the psychiatry ward in the Covid care centre at Government Medical College, Ernakulam on Saturday.
Suresh, who had been earlier arrested by the Perumbavoor Police, was admitted to the Medical College on September 30 after he tested positive for COVID-19. There, he was initially placed in the psychiatry ward, where patients displaying aggressive behaviour are treated. Suresh made his daring escape from the cell when the four police officers belonging to the Armed Reserve Camp guarding him went for donning the personal protective equipment (PPE) kit in order to shift him to a room.
Suresh squeezed himself between the space above the cell around 10.15 am and walked away. He even managed to evade the 140 CCTV cameras in the Medical College as well as the strict security on the campus.
The Perumbavoor police had arrested Suresh for stealing money from a shop at Thandekkad and kept him at the Covid centre under the Jail Department in Karukutty. Suresh carried out his first escape from there on September 23. He pushed the police officers away when they released his handcuffs to place him under quarantine after a Covid test and ran away.
The police nabbed Suresh the very next day from his rented house at Vengola and admitted him to the Covid care centre. However, within hours, he broke the door of his room and escaped along with another inmate, Mishal belonging to Kathiroor in Thalassery. Incidentally, Mishal too is an accused in another case.
Suresh was yet again picked up by the authorities on September 26. In fact, jail wardens captured him in the middle of the night and admitted him to the Covid treatment centre. Meanwhile, Mishal too was taken into custody from Palarivattom in connection with a bike theft.