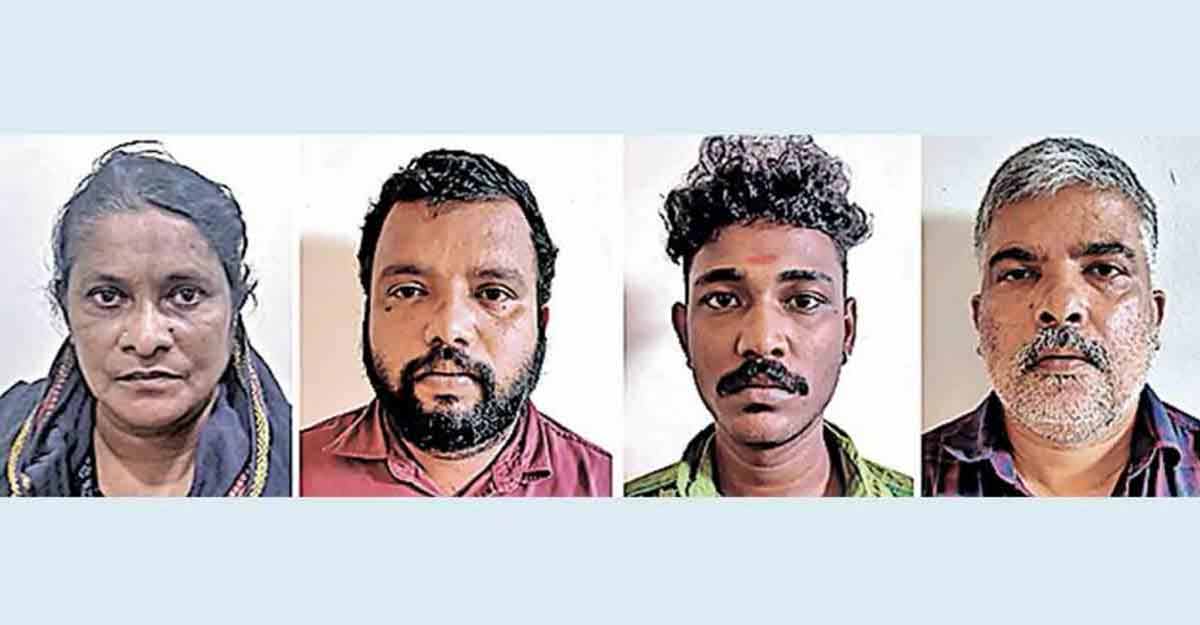 Kochi: Police have cracked the suspected murder of a 64-year-old Kollam resident in Kochi nearly a week ago. Four persons have been arrested in connection with the murder. One more accused in the case is yet to be arrested.
Divakaran Nair, a resident of Ayur in Kollam, was found dead on the roadside in an isolated place in Brahmapuram near Kochi last Sunday morning.
Police say he was allegedly murdered by a gang following a land dispute with his brother. This was revealed in the preliminary investigations carried out by the Infopark Police.
The arrested are Anil Kumar, 45; C S Rajesh of Chirakadav, Kottayam; Sanjay, 23, of Azhikal, Kottayam and Shanifa, 55, of Kollam.
Anil Kumar's daughter is married to the son of Divakaran's younger brother Madhusudhanan. Rajesh is the victim's friend and partner in timber trade. Shanifa was working as a home nurse in Malappuram.
Murder motive
Police revealed a civil case related to family property is pending between Divakaran and Madhusudhanan for the past 15 years. When his son and daughter-in-law were in dire need of money, Madhusudhanan made an attempt to measure the land and sell his share. However this was strongly opposed by Divakaran.
Subsequently a gang of goons led by Anil Kumar were called in from Ponkunnam and intervened in the matter. This had earlier resulted in a clash between the two sides.
The gang then decided to eliminate Divakaran.
Modus operandi
The police said that a gang engaged by Rajesh had carried out the murder. The gang initially laid a honey trap using Shanifa and lured Divakaran to Kochi from where he was kidnapped in a vehicle.
Meanwhile, Anil Kumar's gang had already reached Kochi and was closely monitoring Divakaran's movements. When Divakaran came in an autorickshaw and got down near the Thrikkakara Temple at night, the gang which was waiting there whisked him away in a vehicle.
He was beaten to death in the vehicle.
After committing the murder, his body was dumped late in the night in an isolated area near the KSEB plot at Brahmapuram alongside the Karimugal-Infopark Road in Ernakulam.
The gang soon returned to Ponkunnam.
Diwakaran had left home in his car around 9 am on October 17 and his body was found the next day morning. People, who were out for their morning walk, had spotted the body lying near the gate of the KSEB plot and informed the Infopark police.
Police had suspected unnatural death from the beginning as the body bore several wounds. His family too had raised suspicions over the death.