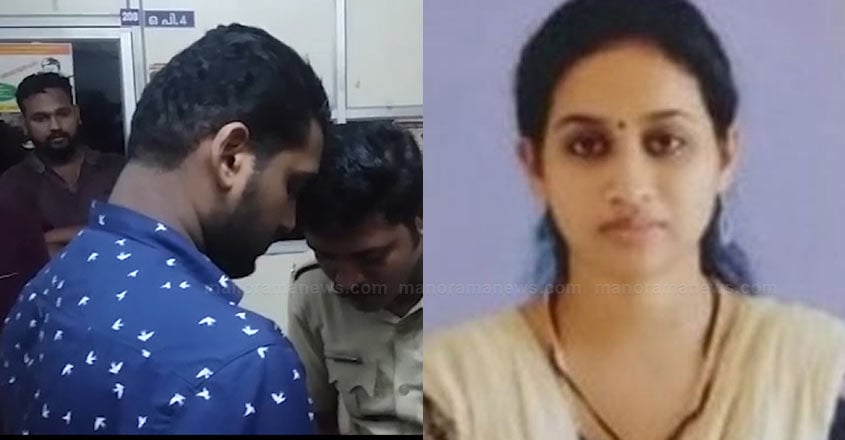 Kundara: A 28-year-old man surrendered at the police station here after strangling his wife at their house at Mulavana in Kerala's Kollam district.
A domestic spat between the newly wed couple over financial affairs is the likely motive of the murder.
The victim was Krithi Mohan, 25, the only daughter of retired panchayat officer Mohanan and Bindu, a beautician.
Kollam native Vaishak Baiju, 28, allegedly committed the murder around 10 pm on Monday. The youth surrendered at the Kundara police station on Tuesday evening after fleeing from home in a car after the crime.
Vaishak had married Krithi last February.
Police version
Krithi had married a Thalachira native four years ago but later got divorced. She has a three-year-old daughter from that marriage. Later, a family friend came up with Vaishak's marriage proposal and they got married on February 2, 2019. This is Vaishak's first marriage. Though he left for Gulf, Vaishak came back after a month. He then started working as an educational consultant.
He had reportedly taken Rs 10 lakh from Krithi's family after pledging property for business needs. Though he asked for the property records two weeks ago, Krithi did not give it to him. They got into an altercation over this. Vaishak created a ruckus and left for Kollam and did not return to the Mulavana house for a week. As he returned by 7pm on Monday, he retired to the bedroom after talking with everyone in the house. Others in the house were watching television then.
Krithi's mother Bindu knocked on the bedroom door around 9.30 pm and asked them to come for dinner. But she was told they would have dinner sometime later.
When the couple did not emerge from the room even after 10.30 pm, Bindu called them again. As Vaishak opened the door, Bindu saw Krithi was lying on the bed.
Saying that Krithi had some uneasiness and had to be taken to the hospital, he picked her up from the bed. Krithi's parents got suspicious then. But Vaishak suddenly laid Krithi on the floor and went out of the house.
Krithi's father too followed him outside. Vaishak then got into the car, but Mohan tried to prevent him from escaping by standing on its way. However, Vaishak apparently tried to mow him down, but Mohan moved away.
As Vaishak sped out of the house in the car, family members then immediately informed the police. Cops and ward member Sindu Rajendran reached the spot soon.
As the police investigation was progressing, Vaishak turned up at the Kundara police station and surrendered on Tuesday night.
After the post-mortem was conducted, Krithi's funeral was held.