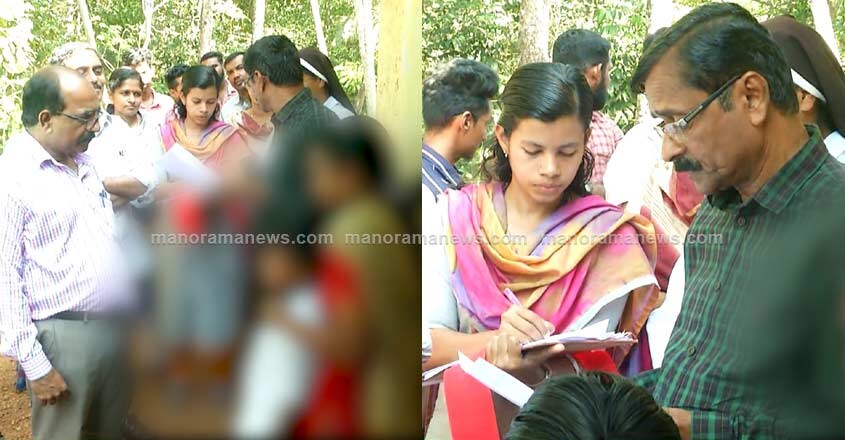 Kuruppunthara: Police here are on the lookout for a lady teacher who had thrashed a Class-2 student over poor Malayalam-reading skills. She has been booked under non-bailable sections of the Juvenile Justice Act. 
The shocking incident was reported from St Xavier's Lower Primary School, Mannarappara, on Wednesday. The teacher, Minimol Jose, was later suspended from service by the school management after protests by students' outfits a day after.    
The student, who was reportedly beaten at least 20 times with a cane, felt dizziness and vomited on reaching home in the evening. The child was soon taken to Government Hospital, Kuruvilangad.
Subsequently, the child's mother filed a complaint with the police and Childline. Childline officials reached the student's home on Thursday and took a statement. A report on the incident would be forwarded to the Child Welfare Committee, they said.
A departmental inquiry would be conducted into the matter and a report submitted to the Deputy Director within 15 days, said Sub-district Educational Officer R Soudamini. Education Department officers also visited the child's house and recorded a statement.
The student's father had died in an accident a year ago and the mother was struggling to raise her children.
The child's relatives said that the school authorities had come to their house and apologised. A request was also made by the school management to withdraw the complaint. 

School authorities admitted that it was a grave lapse on the part of the teacher. Measures to avoid recurrence of such incidents will be put in place, they said. Suitable action would be taken against the teacher after the departmental probe, they added.
A march taken out to the school on Thursday by DYFI and SFI activists was blocked by the police at the gate. Susequently, talks were held by the corporate secretary of the diocese Fr Berchmans Kunnumpuram; Kaduthuruthy educational officer R Soudamini and senior superintendent Krishna Kumar with CPM-DYFI leaders Benny Joseph and Jithu Joy. Later, the school management and Education Department officials held further discussions and decided to suspend the teacher, following which the strike in front of the school was called off.
Children's panel files case

The Kerala Child Rights Commission has also registered a suo motu case over the incident based on media reports. The Commission Chairman P Suresh along with members Sr. Biji Jose and Dr MP Antony would visit the school and the child's house.

The Commission has summoned several officials and other people to appear before it and present their views. They include the District Educational Officer, assistant educational officer, the accused teacher, headmistress of the school, the child's mother, the doctor who treated the student, members of the parent-teacher association of the school and district child welfare officer.