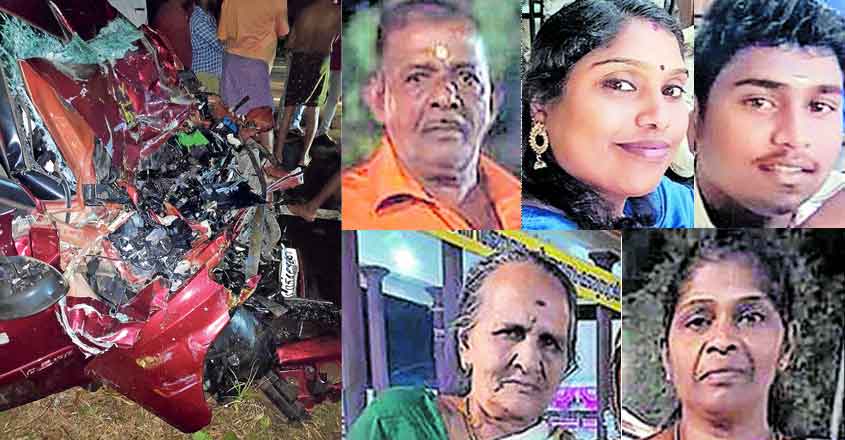 Kuravilangad: Five members of a Kottayam family died after their car collided head-on with a timber-laden lorry on MC Road at Kalikavu near Kuravilangad in the wee hours of Saturday.
Tragedy struck 68-year-old Thampi's family at 12.30 am when they were returning from Chalakudy to their home at Ullatilpadi near Thiruvathukkal in Kerala's Kottayam district. The lorry was heading towards Perumbavoor from Pathanamthitta.
Lottery agent Thampi (68), his wife Valsala (65), daughter-in-law Prabha (46), grandson Ambadi and Prabha's mother Usha died on the spot.
According to police, Ambadi was driving the vehicle. Prabha is the wife of Thambi's son Binoy, who is employed in Kuwait. The car was totally damaged due to the impact of the collision. According to police, the car was speeding around 80kmph when it collided with the lorry. The air bags were inflated due to the impact of the collision but failed to save the lives.
The lorry driver told the police that the car was speeding in the middle of the road and he had slowed down to avoid a collision.
The bodies were brought out of the vehicle after breaking it open with the help of fire brigade personnel. The bodies were shifted to the Medical College hospital for autopsy.
The traffic, which was disrupted on MC Road, was restored after several hours.
By the time people nearby came to the accident spot after hearing a loud noise of collision, all the five were dead. They immediately informed police and fire brigade.
Thambi, a lottery agent, had constructed a new house around three years ago. He had bought the car two years ago. Binoy is employed at a car showroom in Kuwait. His wife Prabha was also a nurse at a hospital in Kuwait but she had left that job and came to Kerala to help her son Ambadi pursue his studies.
The family had attended the debut dance performance of a relative's daughter at Chalakudy earlier in the day. They had even posed for a photograph with the dancer and this picture was posted on Facebook.