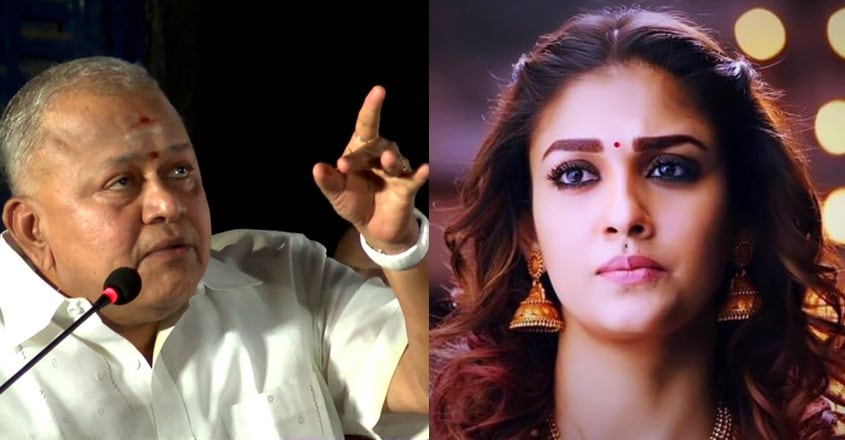 Veteran Tamil actor Radha Ravi is back in the limelight. After making controversial statements against popular actress Nayanthara, Radha Ravi has now justified his own statements.
At the launch of a short film, 'Enakku Innoru Mugam Iruku', Radha Ravi in his speech stated that he has never apologised to anyone and will never do it.
He said, "Yes, I had said that if I had hurt anyone, I would like to convey my regrets to them (Nayanthara and her friend Vignesh Shivan). I never apologised to anyone and it doesn't run in my blood. Why should I apologise? Did I commit a serious crime?"
"Today, I'm getting loud cheers from audience and media people. I got a similar reception that day as well. If I speak the truth, people will eventually support me," he further said.
Further, without accepting that he was at fault, he continued, "Why should I be afraid of someone? A few say that I would no longer act in cinema. No one can stop me. What will happen if I decide to act in drama and stage plays? Whatever happened to me is not even a big issue, it's all temporary. If my speech had enough truth in it, accept it, otherwise, ignore it."
Earlier, in the wake of his remarks against the actress, Radha Ravi was temporarily suspended from the Dravida Munnetra Kazhagam.
Nayanthara had then issued a statement and slammed Ravi's 'male chauvinistic' speech.
Ravi, who is notorious for his insensitive digs, had passed the comment on Nayanthara at the trailer launch of her Tamil film "Kolayuthir Kaalam" last month.
"Nayanthara has acted as ghost and as goddess Sita as well. Earlier, K.R. Vijaya was the most popular choice to play the role of goddess. Today, anyone can be cast to play a goddess. They can cast someone who you want to pray to when you look at them; they can also cast someone you want to invite when you see them," Ravi had said.
His comment earned a lot of backlash on social media after his speech clip got circulated.
Nayanthara's alleged partner Vignesh Shivan had then said he feels "clueless" and "helpless" because nobody would take action against Ravi as he comes from a very popular family.
"He keeps doing this to seek attention! Brainless! Sad to see audience laughing and clapping for his filthy comments," he had tweeted then.