The Malayali movie goers are excited about the news of Kollywood sensation Vijay Sethupathi making his grand Malayalam debut. He will be playing a significant role in the movie 'Marconi Mathai' starring Jayaram in the lead role.
Producer Jolly Joseph has shared a post about how gracefully the actor welcomed veteran screen writer John Paul to the sets of the movie in Kochi. His Facebook post has since become viral with the social media lauding Sethupathi for his humility and humble manners.
Jolly Joseph wrote that he had met John Paul to clarify some doubts about a movie he plans to produce. "While talking about a lot of things, we also spoke about the amazing Tamil movie 'Merku Thudarchi Malai', directed by Lenin Bharati, as well. Many don't know that movie was produced by none other than Makkal Selvan Vijay Sethupathi. More than a hard working actor, producer, poet, screen writer and play back singer, he is known as an incredible human being. He is currently acting in a Malayalam film called Marconi Mathai," wrote Jolly Joseph. The producer added that it was production controller Badusha who informed him that the movie was being shot Edapally. He immediately drove to the location, along with John Paul.
Jolly wrote that the producer Preman of the Sathyam Audios, director Sanal Kalathil, production controller Badusha, art director Salu George, choreographer Prasanna and lots of John Paul's disciples had rushed to the car to welcome the legendary screen writer. They were busy clicking selfies with John Paul and greeting him by shaking hands. "I was like John sir's driver and no one, except Badusha, even looked at me.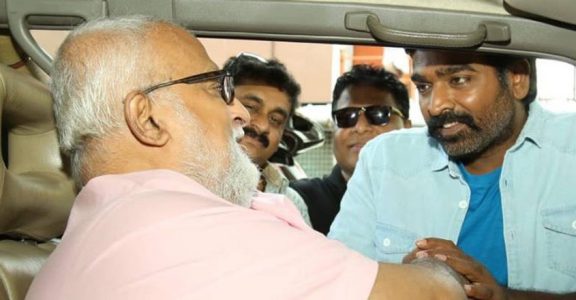 As I was sitting upset in the driver's seat, I saw super star Vijay Sethupathi approaching me. I immediately got out of the car. He came to me, said 'hello' and gave a hug. He then went over to the side where John sir was sitting and I saw, with amazement, how he was behaving humbly, like a disciple in front of a guru. It is only right that the people of Tamil Nadu call you Makkal Selvan. I didn't believe when film maker Lenin Bharathi said that Vijay Sethupathi was not human, but an angel in the form of a man. But, today, on the day of Palm Sunday, I indeed saw an angel," concluded Jolly Joseph. 
Meanwhile, Marconi Mathai is directed by Sanil Kalathil where Jayaram plays an ex-army man working as a security guard in a bank and Vijay Sethupathi's role is yet to be revealed.
On Vishu, the actor met media and talking about his Malayalam debut and working with Jayaram, he said, "No matter how many youngsters come and go, your first lessons always come from your seniors. They deserve one's respect and time, even if there is a date issue. I have seen some of Jayaram sir's films and, naturally, I wanted to meet him in person. I always believe that there are two things that can bind the world — art and love. These two can break all barriers. And I am happy today, that I am here."
Vijay Sethupathi's debut film in Tollywood, 'Sye Raa Narasimha Reddy', is also set to release this year. The film is being bankrolled by Ram Charan Teja under his home banner Konidela Production Company on a budget of Rs 200 crore.