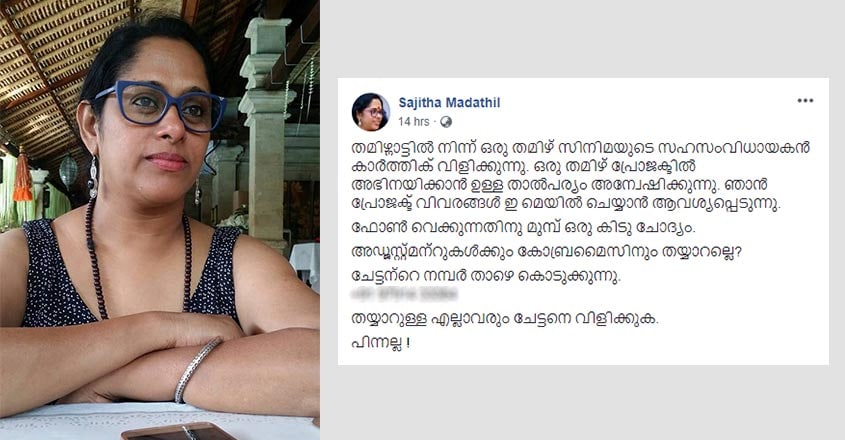 While the #MeToo campaign exposed many casting couch demons from various industries, it seems the number of sexual harassment cases has not really come down.
While many have talked about the casting couch in the film industry, a few have opened up about the compromises they had to face just to build a career in the industry.
Malayalam actor Sajitha Madathil recently shared a similar account where she was asked 'if she was ready for adjustments'.
In a Facebook post, the actress opened up about the shocking experience and gave it back in style.
"An assistant director from Tamil Nadu happened to call. He inquired about my interest in acting in a Tamil movie. I asked him to let me know about the project details via mail. Agreeing to it, before cutting the call, he asked me one amazing question..."
"Hope you are ready for adjustments and compromises..."
"Well, here's the number +91 97914 33384. Those who are ready should definitely call this guy."
This is not the first time that an actress has openly exposed such people. In an interview to a website in 2016, Radhika Apte had admitted that she was asked for sexual favours to land a role.
"Once I got a call and they said 'they're doing this film in Bollywood and I want you to have a meeting with them. But would you be okay sleeping with that person?' And I laughed! I said you're so funny, you're very funny and I said 'no I'm not'. Ask him to go to hell," she had said.