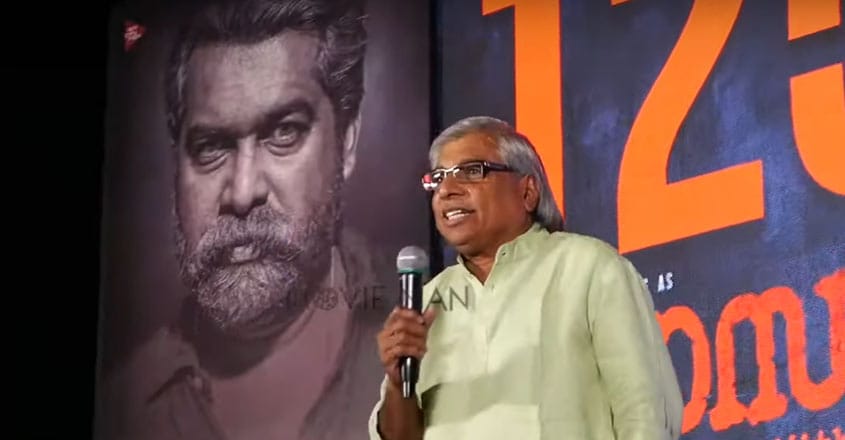 Kochi: Veteran director Kamal stated that a brilliant actor like Joju was not utilized properly by makers like him during the director's early days. He was addressing the audience on Wednesday at the 125 days of success celebration of Joju-starrer Joseph at IMA Hall here.
"The movie Joseph is one of the best in recent times. It is in fact a a film that directors like me would like to make. The realistic story with subtle presentation was its highlight," said Kamal.
He further added, "The film also had a brilliant actor like Joju in the lead. I regret the fact that since so many years Joju was not utilized by people like me. At this stage, I am also revealing something that I am not supposed to."
"Joju won the supporting actor award for this film. Although I am the chairman of Chalachithra academy, which is hosted by the Kerala State Chalachitra Academy, I cannot interfere in the winners list in any manner. But when I heard that Joju won the supporting actor, I was concerned. I called up the academy secretary and asked how Joju got the supporting actor. I was then told that the jury gave equal marks to three actors i.e. Jayasurya, Soubin and Joju. And since he couldn't give the best actor award to all three, he went ahead with two," said Kamal.
While Joju was awarded the supporting actor, Jayasurya and Soubin Shahir were adjudged the best actors of the 49th Kerala film awards.
Kamal also pointed that with equal marks at the final judgement, there's no need for Joju to be sad over getting the supporting actor award. "All I got to tell Joju is to consider the supporting actor award equal to that of best actor. He deserves that," concluded Kamal.