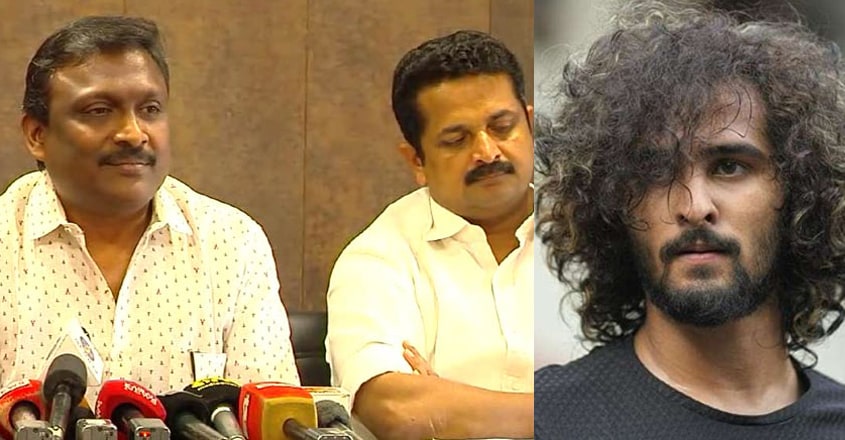 Kochi: The Producers Association at a press conference here on Thursday announced that they have abandoned two film projects 'Veyil' and 'Qurbani' featuring actor Shane Nigam in the lead.
Also read: Hear our version too, says Shane Nigam's mother

The decision was taken jointly by the producers and demanded that Shane should compensate the loss suffered by the makers of both the films.
"Shane's irresponsible behaviour has been noticed and we have taken account of how movies are not getting finished because of his silly attitude. This cannot be tolerated anymore. When the issue first came out, both producers association and AMMA jointly solved the matter. It was decided that Joby George's film should be finished first and right from the first day, Shane was not co-operating," told M Ranjith to media.
He further added, "When the director of Veyil himself complained to his mother, he was fine and the very next day, without telling anybody he left the sets. Though we continuously tried to get in touch with him, we coulnd't trace him down. Few days later, his photos with new hairstyle landed online. This is not acceptable and we cannot take it anymore."
An audio clip of Shane demanding salary hike for upcoming movie Ullas had been doing rounds on social media since a few days. To this, Ranjith addressed, "When veteran stars like Mohanlal and Mammootty compromise everything to finish a project. And now a star like Shane who after 2 or 3 hit movies is demanding too much. How can this be justified? And that is why we have come to this decision."
The decision was also conveyed to AMMA, claimed the association.
Earlier, there were also reports that Shane was into subtance use on the sets of movies. The association said that they will also inquire of the drugs that were taken to the movie sets.
Last month, Shane Nigam claimed he received death threats from producer Joby George of Goodwill Entertainments. 
Shane is yet to respond over the matter.