The over-Rs600 crore (at the time of writing this article) success story of 'Jawan', the first collaboration of Tamil director Atlee Kumar and Bollywood Badshah Shah Rukh Khan released in the first week of September 2023, in itself is a saga of survival. The movie, which enjoyed massive pre-opening hype, faced an implausible negative online campaign with some critics going to the extent of calling the film 'crap' and 'unbearable'. However, the SRK movie, staying true to its name, refused to throw in the towel.
'Jawan' not only went on to shatter box office records but fuelled an online campaign that dubbed the movie as one of the strongest critiques of governments that propagated divisive politics and the authorities who failed to fulfil their obligations. How did the makers turn the tables around for the film that faced an onslaught of criticism? Perhaps, in this success story lies a managerial lesson for business and the film industry in particular.
Though the makers initially banked on Shah Rukh Khan's star stature to pull crowds, the focus soon shifted to the issues 'Jawan' addressed, once it hit theatres. Soon enough, the anti-establishment wave in the film that revolved around real-life incidents, became talking points on social media, especially on X, formerly Twitter. The message was loud and clear. While naysayers criticised the film saying it was a mishmash of several movies, 'Jawan' makers knew what it would take to ensure the film survived and focused on that aspect. The rest, as we say, is history.
One by one, netizens started to discuss the issues of farmer suicides, Gorakhpur hospital deaths, and nationalism, among others that the film addressed. These political statements, made at a time when very few films address such issues, became a part of the discourse. Can they maintain the heat till the 2024 Lok Sabha elections or have any impact on them is something to wait and watch. But, soon enough, even politicians of various parties in the country started using this film as a reference to score political points against their rivals. The BJP is glad that the film has an indirect reference to the Bhopal Gas Tragedy, which took place in 1984 when the Congress-led governments were in power. Even BJP national spokesperson Gaurav Bhatia went to the extent of thanking 'Jawan' for 'exposing the corrupt, policy paralysis-ridden Congress rule between 2004 and 2014'. AAP party chief and Delhi Chief Minister Arvind Kejriwal used the film's political message to remind the public that they are a party committed to pro-people welfare activities.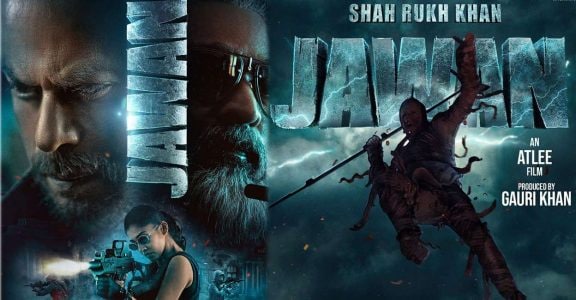 The North Indian viewers, who are unused to the kind of loud, anti-establishment statements and emotional pleas in the South Indian films, would have been surprised by the Atlee directorial. In 'Jawan' SRK, who till then had done movies with subtle political references, was speaking another language, in an unrestrained style and it came as a whiff of fresh air to the Bollywood audience.
Malayalam filmmaker Dijo Jose Antony believes the film tasted massive success because it was a huge hit with the North Indian audience. 'The film has made a lot of noise at the box office in cities like Delhi, among others. By signing up Shah Rukh Khan for a film that is essentially South Indian was a masterstroke by Atlee since he knew it would be a novel experience for people in North India, though in South India the response to the film has been lukewarm. I personally think people were blown over by Shah Rukh Khan appearing in both the father and son role, which was quite new to the audience in the north, though many down South have already seen this context before in 'Mersal'," he said. "In South India, I think it is the novelty of seeing Shah Rukh Khan perform in a film that is similar to the ones done by Vijay and other actors, that is the pulling factor here," he said. "I would go watch 'Jawan' for this reason," he added.
Also, Atlee, who is known for mass masala entertainers like Vijay's 'Bigil' and 'Mersal', became a visionary director who was able to bridge the gap between art and commercial films. Critics and movie buffs started taking Atlee's name along with the likes of Pa. Ranjith, Vetrimaaran, Mari Selvaraj and his other Kollywood peers who make films with political conviction.
In short, the filmmakers were prepared. They knew what to expect and how to use the resources in their film to the best of their advantage. Big Mollywood filmmakers who faced flops in recent times could pick a point or two from Team 'Jawan'. If Alphonse Puthren, whose 'Gold' failed to generate positive responses among movie buffs, had opted to promote his film's strength in the same manner, it could have probably reduced the impact, despite the drawbacks. Unlike 'Jawan', 'Gold' failed to properly use buzz around the return of superstar Nayanthara to Malayalam cinema.
Abhilash Joshiy's 'King of Kotha', touted as a pan-India film, too could have overcome its fate since the film had some essential ingredients for a blockbuster. Trade analyst Sreedhar Pillai says most big-budget movies driven by stars face a barrage of negative reviews on the first day of release. "This mostly happens to movies when big names are involved. However, if the content is good, the film will survive. Jailer, Gadar 2 and Jawan are latest examples," he said.
The public relation team handling 'Jawan' affirm the film worked because it delivered what the makers promised. "They delivered an SRK extravaganza that is bigger and 'massier', combining South Indian adrenaline-thumping machismo with a swag that's all his own. This delighted his fans who have not experienced SRK in such a magnificent South Indian malasa movie canvas before," the PR team said.
"We can't do anything if people choose to pass negative remarks about a movie. Degrading a film has become a habit among pseudo critic. Considering the record breaking revenues we have achieved, it's clear that the power of hard work and execution can go beyond all the online degrading," the PR team added.
Probably, it's time the marketing strategy of films post-release, both in South and North India, is viewed seriously.