He began with small roles. Then he started getting more screen space. We saw how he rocked the role of a pervert in Amal Neerad's 'Varathan.' Vijilesh Karayad's graph in Malayalam cinema is slowly and steadily on the rise. Though 2021 was a dull year for Malayalam cinema owing to Covid and lockdown, Vijilesh has had a fruitful year surprisingly. He had 7 films, and most of them were hits. And he also played significant parts in them. His last release was 'Ajagajantharam' which is still running in the theatres. Vijilesh also has a few dozen interesting films waiting for release. He is looking forward to better innings this year. The actor talks to Manorama online about his journey in cinema.
What's happening on the work front?
'Maheshinte Prathikaram' was my debut film. I started in brief roles and now I am getting to play lead roles. That, I am getting characters that play a key role in the narrative itself is a huge deal right now. Some of my upcoming roles fall in that category. I play important roles in 'State Bus', 'Kothu' and 'Peace'. In 'State Bus' I am one of the two characters who are instrumental in driving the narrative forward.
What is the theme of 'State Bus'?
In one word, it is revenge. It's an adaptation of Pramod Kooveri's critically acclaimed short story. Directed by Chandran Narikodu, Santhosh Kizhatoor plays the other leading role. It revolves around a murder and the events following it. The accused is being taken in a KSRTC bus to court. That's the journey of 'State Bus.' This story is relevant to the current times. A situation that would have been easily resolved through a conversation eventually spirals out of control and soon revenge seems to be the only goal. We finished the shoot in 10 days. This is a mainstream film with a running time of 90 minutes and was made on a small budget. We shot the film at the director's hometown Thaliparambu and had the cooperation of his friends. There are plans to release the film on OTT this month. Music by Mohan Sithara and Vidhyadharan master is the other highlight of the film.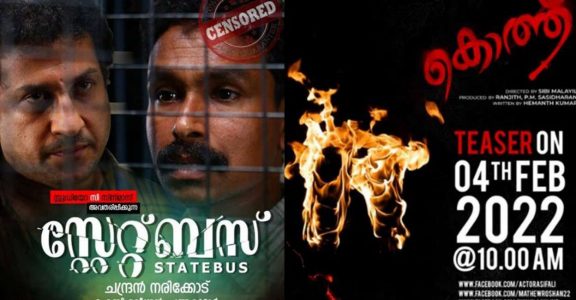 Expectations of 2022
Sibi Malayil directed 'Kothu' produced by Ranjith is another interesting film. Ranjith is also playing an important role. The experience was enriching, and it felt like I passed out of a film school. The story is set in the backdrop of Kannur politics. Asif Ali and Roshan Mathew play the main leads. The film's postproduction work is going on right now.
I am also playing a fine character in Joju George's 'Peace', which is simultaneously being made in five languages (Malayalam, Tamil, Telugu, Kannada, and Hindi). 'Salut' and 'Upacharapoorvam Gunda Jayan' are the other films ready for release. I will start shooting for Bijith Bala's political satire written by Pradeep Kavunthara on March 11th. Kozhikode is the location.
Are you interested in other areas of filmmaking?
I am currently focused on acting. I want to do a lot of good characters. I will only think of direction much later. I came to cinema after taking an MPhil in Theatre. Since I am busy with films, I am not able to give enough time to the theatre as well. So my point is, right now I am only interested in acting. I have struggled a lot to get roles like any other actor. I have attended various auditions and asked a lot of directors for work. You can say that I am finally enjoying the fruits of my labour. I am hoping that I will get this loving support from my audience always.