Antara Nandy had the debut any aspiring playback singer would dream of. She started her career as a playback singer with Ponniyin Selvan 1 (PS1) under the magical combo of Mani Ratnam-A R Rahman. Nandy sang the 'Poonguzhali' song ('Alaikadal' in Tamil) in four languages – Tamil, Telugu, Kannada and Hindi – in the multi-lingual project. A trained Hindustani singer and a reality show star, Nandy has been an ardent Rahman fan from an early age. She had been singing scratches for the music maestro for the past two and a half years. However, she says that chance to sing in Ponniyin Selvan still came as a huge surprise. She had sung the scratch version of the Tamil song two years ago, and it was picked for the original film just a week ahead of the audio launch of PS1 this September.
Then she also sang the other versions of the song. (Its Malayalam version is sung by Swetha Mohan.) In an interview with Onmanorama, Nandy revealed that she was called to sing the Malayalam version of the song also, but there was a change in the decision at the last minute.
"When I was asked to go to the Bombay studio to sing the other versions of the song, I was told that I would have to sing the Malayalam version also. So I got in touch with the lyricist (Rafeeq Ahmed), got the lyrics and wrote down the lyrics on my own and worked on the song. I recorded the Telugu, Kannada and Hindi songs and was supposed to record the Malayalam song last because it's the most difficult language. Just before we started recording it, we got a call saying, 'Antara, you can chill. You can go back to the hotel and relax. Swetha Mohan ma'am is doing that song. I don't know what actually happened. But I think what could have happened is that Swetha ma'am probably knows the language very well. It's a vey tricky language and Swetha ma'am has just killed it in her version of Alaikadal. Whatever happens, happens for good. But I really hope that one day I can sing in a Malayalam film," an enthusiastic Nandy said.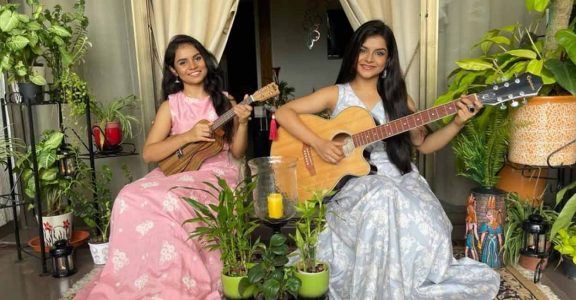 She also spoke at length about her experience of being trained in Hindustani music by a master like Ustad Rashid Khan from a very young age. Her parents decided to move from Assam to Kolkata to give her some quality training in music and enrolled her in Khan's academy when she was only four-and-a-half years old.
As a little girl, she used to sleep in her class. She had to get up at 5 am for the training before going to school and come back directly to the academy for the evening classes which lasted up to four hours.
 "During the first six months, I only learned 'sa'. You can imagine if you introduce a four and a half years old to five hours of 'sa', it can get boring. And I used to fall asleep during the class. My mother would go to Guru ji and ask him why does he let me sleep and why doesn't he wake me up, he would say, let her sleep. Even when she is asleep, he ears would get trained. This is what Guru ji used to say. After six months, my mom really got frustrated and she told Guru ji her daughter came there just to sleep and wondered what was I learning. So Guru ji called her near. He took me in his lap and asked me to sing raag yemen which I studied in his class. I started singing the composition in raag yemen which the senior students used to keep singing in the class. My mother was surprised. Guru ji said. That's what this is all about. You got to let your child be. If your child is growing up in such an atmosphere, you will learn it herself. You don't have to push it," Nandy remembered, thanking Ustad Khan for giving her a solid foundation in music.