"On the floor baby...hit it hard baby"... is a recurring song in Love Action Drama, starring  Nivin Pauly and Nayanthara.
This includes moments when love blossoms between Dineshan, our protagonist, and Shobha, when he tries to exact revenge on his ex-girlfriend Swati, when he parties hard with his friend-cum-cousin Sagar and even when he takes on the 'villains'. 
In his debut directorial, director Dhyan Sreenivasan and  his composer Shaan Rahman wisely uses the music factor to appease family audiences. 
For instance, when Dineshan tries to impress Shobha and Shobha falls for him, not even once do audience hear what Dineshan speaks to Shobha and what made Shobha fall for him. 
Yet the scenes are so colourful and lively with songs in the backdrop that viewers are made to forget about the reason that shapes the love story.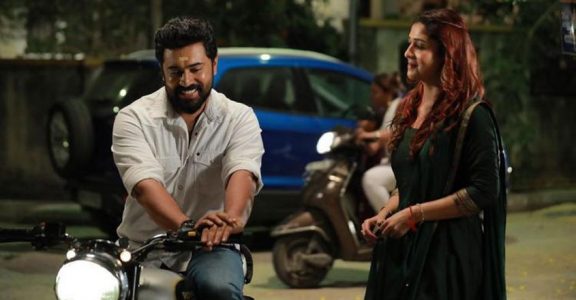 Then comes the action. Dhyan has once again infused comical instances between the stunt sequences to make his viewers glued and entertained. Imagine this, Dineshan arrives at a  beach restaurant to take on  the 'villains'. Realizing Dineshan's intentions,  one of them deploys a waiter to Dineshan and asks him what he wants. Dineshan orders for beef and beer. 
Usually, filmmakers tend to opt for high octane background score in such scenes, but Dhyan skips that and opts for  "On the floor baby...hit it hard baby" again.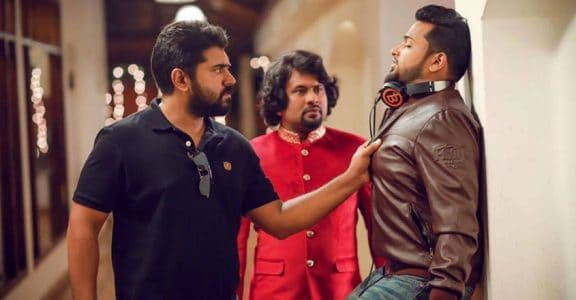 And finally, there's this drama where all's well that ends well. In order to woo Shobha, he needs to convince Shobha's father and Dineshan does all the 'dramabaazi' at his command.
Justifying the title, Love Action Drama has all the elements to be a festive entertainer. There is a good layer of fun that keeps the movie lively, though at times it backfires. In terms of storyline, there's nothing new as Dhyan treads the path of a typical rom-com.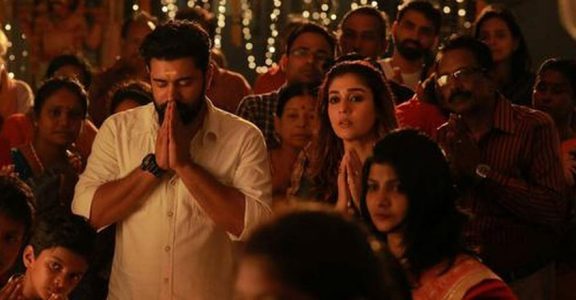 Nivin Pauly as Dineshan plays a dimwit who is ready to sit at home doing nothing and rest on his ancestral assets. Nivin Pauly's mannerisms was perfect for Dineshan and his comic timing does work out well enough. We have seen shades of Dineshan in him with his roles from Oru Vadakkan Selfie, Premam and Bangalore Days. 
On the other hand, the good looking and matured Shobha played by Nayanthara is flawless. She carries a charm throughout the movie and justifies her role. Aju Varghese as Sagar is hilarious. 
Certain scenes of Nivin-Aju may even remind of Mohanlal-Jagathy combo from old Malayalam flicks. Mallika Sukumaran as Dineshan's mother also managed to grab attention. There are more funny characters and cameos and we leave that for you to discover.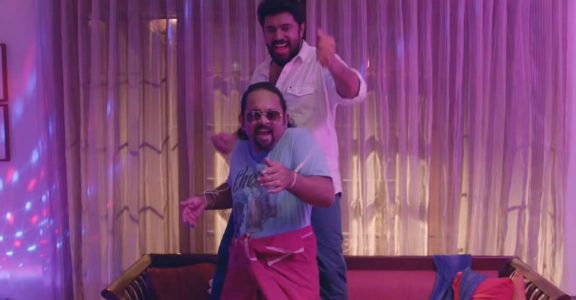 Shaan Rahman has made a mark this Onam with some peppy and breezy musical numbers for the movie. He didn't even forget to infuse his earlier song 'Ente Maavum Poothe' from 'Adi Kapyare Koottamani'. Jomon T John's visualization and art direction by Ajay Mangadu need special mention.
As a simple fun-filled movie, Love Action Drama stands out. There are things that keep us interested in proceedings as Dhyan Sreenivasan focuses on making an out-an-out entertainer than delivering so called realistic or sensible content. As a debutant director, Dhyan has managed to make an enjoyable film with ease.