Hyderabad is synonymous with pearls, Charminar and, of course, the eponymous Biryani. However, this erstwhile Nizam stronghold has more to it when it comes to gastronomy. Let us get to know some exquisite vegetarian Dakhni delights which are rare to procure and indulge while in other parts of India.
Savour a piece of Jauzi Halwa
Barring local people, not many have an inkling of the traditional Hyderabadi sweets Jauzi Halwa, Ashrafi, Kaddu ki Kauz and Badam ki Jali that have Turkish origins. While Jauzi Halwa containing the Turkish spice of 'jauzi' (nutmeg) is Nizam's signature delicacy, trying the Ashrafi that has Arabic impressions on its surface is ambrosial. It supposedly is in a yellow shade (due to the usage of saffron) as the royal colour of the erstwhile Hyderabad rulers was yellow!
Hameedi Confectioners, bang opposite the legendary Mozzamjahi Market, has been in the confectionery business for the last 100 years and more, doling out rare Nizami sweets that have got Turkish origins. Certified by the last Nizam and given permission to use his son's nickname, this once official sweet shop of the former Hyderabad rulers churns out luscious delicacies to pamper the sweet tooth, even to this day.
A happy heart!
Dilkush is often mistaken for Dilpasand (Bangalore Iyengar bakery fame). However, not many know that a Dakhni variety with a sweetly stuffing is a delicacy and meal in itself, across the twin cities of Secunderabad and Hyderabad. Try tasting this Dakhni speciality of Dilkush that is on the brink of being wiped off the old bakery shelves.
A number of popular Hyderabadi bakery items such as the Osmania biscuit, Sheermal, Chand biscuit and Dilkush have unmissable Iranian and British influences in their making and taste.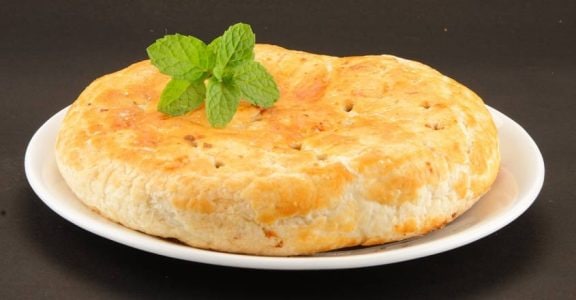 Dilkush, which literally translates to 'heart is happy', consists of a triangular-shaped bun stuffed with minced tutti fruity (candied papaya pieces), raisins, cashew nuts, cream mixed with leftover cake crumbs. The Dakhni variety is usually devoid of dried coconut, unlike the Dilpasand.
Golden Bakery adjoining the 200-year-old Sri Ganesh Temple near Secunderabad railway station makes the perfect tasting Dilkush. With a minced sweet dough, this bakery item truly makes a foodie's heart happy on the first bite itself! You could also gorge on their scrumptious cake-biscuits and cream rolls while here.
Indulge in Anglo-Indian cakes
Secunderabad, the twin city of Hyderabad, has been home to a close-knit Anglo-Indian community for centuries. There are a handful of bakeries run by these friendly and warm people, who bake the best of marble cakes as well as churn out some delectable Anglo-Indian dishes.
Taste the Guava Cheese, Rum Cakes and Ginger Pop while in Secunderabad during Christmas.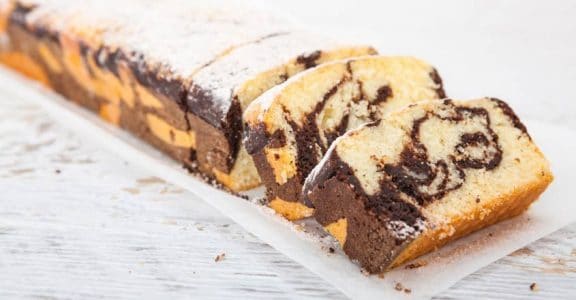 Gulp uniquely prepared 'pudina paani'
Come summers, the streets of Hyderabad are lined with mobile pushcarts. These pushcarts are lined with red cloth and huge cauldrons filled with 'pudina paani' (mint water or drink); that are adorned with mint leaves and fresh lemons around their neck, the whole set-up resembling a mini vibrant herbarium.
Made from a mixture of mint, fennel seeds, pepper, cumin seeds, neem paste and carom seeds mixed in water with a dash of jaljira powder added to it, this cheap and chilled beverage is much sought-after in the twin cities of Hyderabad and Secunderabad.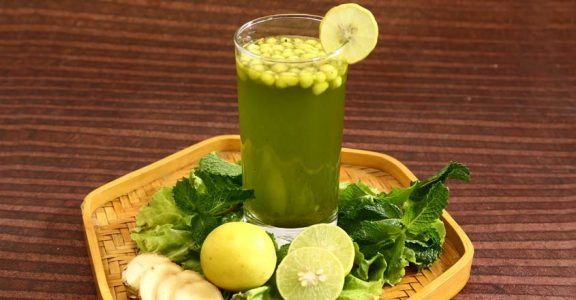 You can quench your thirst with this delicious Hyderabadi pudina paani which is much cheaper and healthier than the branded colas.
Taste hand-churned ice creams
Famous Ice cream shop has been selling ice-creams from under the arches of the Nizam-era Mozzamjahi Market since 1951, and literally has become 'famous' over the years. These hand-churned ice creams aren't creamy unlike the other ice creams. It's extremely popular for its ice cream flavours like musk melon, chikoo and custard apple. Of course, there are similar outlets selling ice-creams inside the shopping arcade, still, Famous Ice cream attracts a large number of customers all through the day.
Despite an influx of branded ice-creams in the market, Famous continues to draw crowds owing to its traditional and homely taste of ice-creams. And, it's a great place to mingle with local families who throng the place for their post-dinner dessert fix.
Toast like Hyderabad
A unique chaat-item (snack) that has its origins in Hyderabad is the delectable triangular Aloo Toast. Often mistaken with the bread pakoda of North-India, this delicacy is largely ignored by diet-conscious travellers. However, local people can vouch for this easy-on-the-tummy, yet, tasty on-the-go snack, that has been given a varied touch by the Rajasthani chaat vendors settled in the Pot Market area of Secunderabad since decades.
The snack is made with slices of dried bread stuffed with potato filling; roasted, smeared with varied sweet and spicy chutneys and then sprinkled on top with spices. Finally, it is served with a generous mixture of chopped onions, coriander leaves and sev (small pieces of thin crunchy noodles made from chickpea flour paste). Aloo toast is quite uncommon in other parts of India, so do dig into this delicacy when in Hyderabad.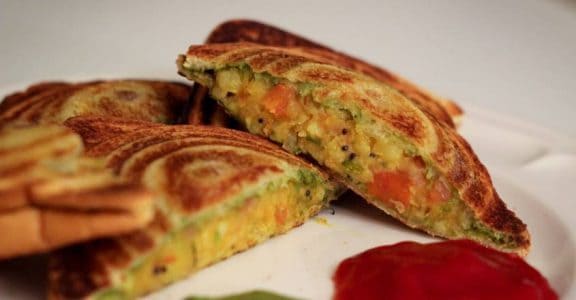 Bite into crispy Irani triangular
The onion samosas which are a popular variant of Irani samosas in Hyderabad, are made with a stuffing of chopped onions and flattened rice flakes. There are no potatoes used in this relatively smaller and crispy samosas, unlike its bigger cousin - aloo samosa. The onion samosas are delectable and usually sold in a dozen. You do not need chutneys as accompaniment, instead, bite into these crispy triangular along with an Irani chai (tea). Commonly, they are available in most of the tea-stalls and old bakeries of the twin cities and often sold in conical newspapers.
If Hyderabad is reminiscent of its association with Nizams, then, Secunderabad is synonymous with the British. And, the twin cities of Secunderabad and Hyderabad together make for the capital. Hence, the capital city of Telangana is a potpourri of varied cultures and traditions and has a cosmopolitan vibe.
Apart from these Dakhni delicacies, travellers could also indulge in a lot of other cuisines ranging from south Indian to Sindhi. And, yes, do look beyond the biryani when in Hyderabad!
(Meenakshi J is a family traveller with a penchant for art, doors, architecture, heritage and historical sites, and symmetry, that often gets translated into words on her blog: PolkaJunction)