The monsoon rains are here and that means the mango season in Kerala is officially over. Yet, there are some trees here and there across the state still bearing the seasonal fruits. Not for long though. Once the rains set in, the mango trees will soon become bare and the local varieties will no longer be available. But worry not. We have the perfect solution for you to be able to enjoy the tangy goodness of raw mangoes throughout the year.
Mangoes can be stored for up to a year, if done correctly. First, remove the skin and cut the mangoes into small pieces. Mix 2 tsp sugar and 2 tsp white vinegar in some water. Soak the mango pieces in this liquid for 10 minutes. Spread the soaked mango pieces on a piece of clean and dry cloth. You could also wipe the water using a tissue or another cloth.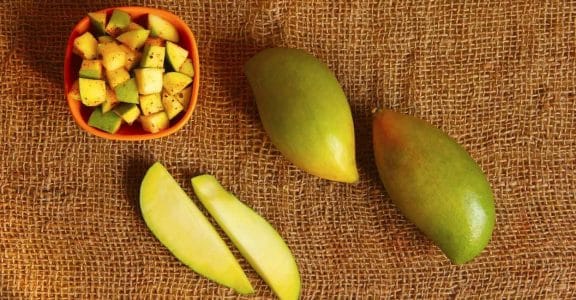 Transfer the mango pieces into a vessel with flat surface. Keep them in the fridge for an hour, without putting on a lid. After one hour, take it out and separate the pieces that are stuck together. Put them in a zip lock bag or a regular plastic cover. Fold the cover and store in an air tight container. Keep this container in the fridge. The mangoes will be fresh for up to a year if stored like this.