The Goal Face hotel at Paravattani Pulikkan market, close to Mannuthi-Thrissur highway, is a regular eatery that has consistently been serving mouth watering dishes for the last eighty years. It was opened by Kumaran and his wife Chakki, in 1942, as a quaint tea shop. In the early days, the tea shop was known for the delicious dishes cooked by Chakki. Her tasty sambar was quite well known. The hotel was later taken over by their son Mohandas who used to worked in Sri Lanka prior to it. Goal Face was the name of an eatery that Mohandas had frequented in the island nation. He couldn't think of any other name when he decided to run the hotel that was handed down to him.
Porotta and beef
It was their iconic combination of porotta and beef that made Goal Face famous in the beginning of 1980s. Besides, their tasty egg roast too was quite popular. Interestingly, these dishes are still some of the most ordered items in their menu. Mohandas swears that there is no secret recipes or ingredients that make their beef roast or chili beef extra special. However, he says that the perfect cuts of meats play a significant role in enhancing the flavour of the dish. Mohandas' son Nithindas vows that his children eat from the hotel. That is the greatest guarantee that he can give for the quality of the food. Nithin had worked as a chef abroad for a few years before returning to help his father run the hotel.
Egg porotta
Egg porotta and beef is a unique dish that is served here. Porotta pieces are mixed with eggs, onions and beef masala to prepare this delicious dish. Earlier, this dish was available with mutton too. However, Mohandas stopped selling it when availability of good quality mutton became scarce. Homemade masala is used to prepare beef dishes in the eatery. Moreover, these dishes aren't too oily; so, fitness enthusiasts too come here to enjoy the dishes. Mohandas promises that no preservatives or harmful chemicals are added in the masala or other ingredients.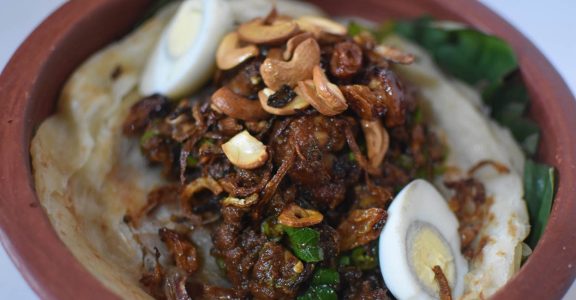 The menu
Dishes like dosa, puttu and appam are available for breakfast at Goal Face. All the dishes in the menu would be ready by 11 am. The fish curry meal for lunch is a best seller here. Mohandas The hotel closes at 10.30 pm. Goal Face is the perfect eatery to visit with family to enjoy some delicious dishes.