The name of this dish is quite intriguing as Delhi Chief Minister Arvind Kejriwal is a vegetarian and has got nothing to do with it. Eggs Kejriwal is a popular dish that is served in the Dishoom chain of restaurants in London and at Paowalla Restaurant (Newly branded as Bombay Bread Co) in New York. The eggs Kejriwal made at Paowalla's Manhattan restaurant had found a place in New York Times best dishes of 2016.
This delicious egg preparation has been popular even before Arvind Kejriwal made his political debut. It is believed that the dish was born in Mumbai. The dish is often associated with Devi Prasad Kejriwal who used to visit the Willingdon Sports Club to enjoy it. The Kejriwal community are vegetarians and do not eat eggs. However, Devi Prasad wished to taste eggs. One day, he reached the Willingdon Club and ordered an eggs on toast with cheese. He enjoyed the delicious and creamy eggs on top of crunchy toast and melted cheese. People who watched him enjoy this dish began ordering the same dish. Soon, the dish came to be known as eggs Kejriwal after Devi Prasad.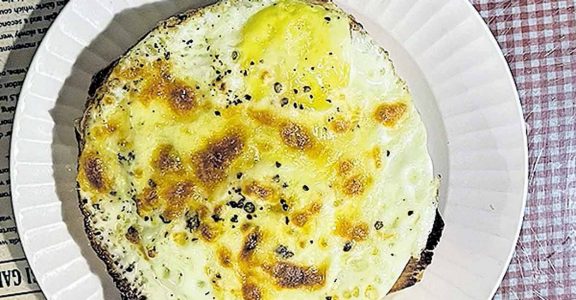 Eggs Kejriwal is actually a classic preparation that is extremely popular around the world. A perfectly fried or poached egg is placed on top of crunchy toasts and is topped with shaved cheese and green chillies. Different versions of this dish are served in various parts of the world. In India, the eggs Kejriwal served at SodaBottleOpenerWala Restaurant at Khan Market in New Delhi is quite famous.
Here is how you can prepare eggs Kejriwal easily at home.
Ingredients
1 egg
2 onions (chopped)
Salt as required
Pepper as required
1 tomato (chopped)
1 green chili (chopped)
2 tsp chopped coriander leaves (optional)
Preparation
Cook the egg in the 'sunny side up' method
Keep it aside to be used later
In the same pan, sauté onion and tomato
Sprinkle salt, pepper and coriander leaves
Mix well
Toast the bread slices
Add some cheese on top
Take them off the pan when the cheese begins to melt
Place the tomato-onion mixture on the toast
Now place the sunny side up egg
Finally, sprinkle finely chopped green chilies
Tasty eggs Kejriwal is ready!