The participants of this year's Kerala School Kalolsavam (State School Youth Festival) can indulge in some mouth-watering dishes prepared by veteran culinary expert Pazhayidom Mohanan Namboothiri. Interestingly, Pazhayidom is helming the kitchen at the youth festival venue for the sixteenth year.
On the New Year's day, Pazhayidom, along with his seventy assistants, had left for Kozhikode where the youth festival would be held. The kitchen was inaugurated by serving delicious milk payasam. The huge cauldrons and other vessels that are required for cooking would be taken by the team from their base in Kottayam. Meanwhile, rice, vegetables, milk and other provisions would be supplied by the organisers.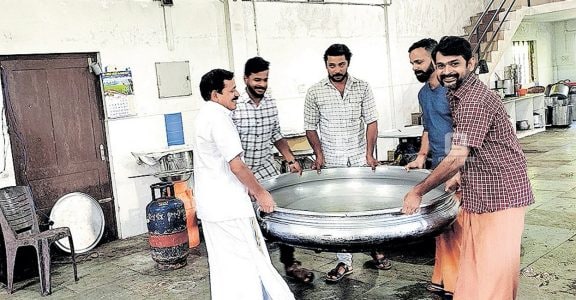 Pazhayidom and his team would be preparing breakfast for 10,000 people including the participants, their parents, teachers and organisers of the event. Meanwhile, an elaborate lunch menu would be prepared for 15,000 people; and 10,000 people are expected to have dinner at the main dining area.
Besides, tea, coffee and snacks would be provided in the evening. Crunchy parippuvada (dal fritters), ullivada (onion fritters), sukhiyan and vattayappam would be served as evening snacks. The breakfast menu contains idli and smabar; puttu and Bengal gram curry; appam and vegetable stew; upma and mung bean stew. Meanwhile, you could enjoy a traditional spread for lunch that consists of rice, sambar, thoran, masala curry, kichadi, pachadi, buttermilk, rasam, pickles and payasam too. The curries would be different each day. Moreover, the dessert menu is pretty impressive with delicious pal payasam, wheat payasam and the iconic Ambalapuzha pal payasam taking the lime light. Besides, Pazhayidom would be serving his special yam payasam and ash gourd payasam. Interestingly, Pazhayidom was selected from among the four quotations that were presented to the authorities.
The city of flavours
Pazhayidom had set up his kitchen at Kozhikode, which is often touted as the culinary capital of Kerala, when the youth festival was held here around seven years ago in 2015. It had gifted him one of the most special memories in his life. Legendary writer M T Vasudevan Nair had visited Malabar Christian College, which was the main venue of the event. Pazhayidom had been an admirer of the writer and had wished to meet him. MT met Pazhayidom and had gifted him a signed copy of his bestseller 'Randamoozham'. For Pazhayidom, meeting his icon was incredibly special and still keeps the signed copy of the book as a treasure.