When it comes to food, the king of Indian subcontinent would be biryanis. Whether it is Hyderabadi, Sindhi, Awadhi, Thalassery, or Pakistani, the underlying recipe would be common for all biryanis – flavoured rice cooked with spicy meat which delivers an aromatic, mouthwatering concoction of tastes.
Bonding over biryani is a thing. It's often the first choice for lunch and dinner on special days or special events.
It is the Indian version of Mac n Cheese as moodlifter or comfort food on a day when you are feeling down.
It is the food that kings ate.
The conclusion: biryani is royalty. Health buffs often say eat like a king in the morning. But does that mean you can have this most royal dish for breakfast?
We stumbled upon this question after coming across a particularly interesting article on the Malayala Manorama newspaper on February 9. On the 'Padippura' special page that provides learning materials and articles for kids, Dr. Jafarali Parol, a prominent scientist at the Kuwait Institute of Scientific Research, had written on the applications and drawbacks of ChatGPT.
In that, he added an itinerary created through ChatGPT for a trip to Hyderabad. The AI tool, however, came up with something surprising – or rather unconventional. The first item of the travel plan the tool listed was to "start the day with a delicious breakfast of authentic Hyderabadi biryani" at 9 am! This was followed by a list of iconic places and monuments to visit in the city, a lunch of haleem and kebabs, a 7 pm dinner of haleem (surprise surprise!) and a traditional dessert at 9 pm.
The author, however, found the choice of breakfast silly and cited as an example of how an AI model like ChatGPT can mislead. We get the ChatGPT logic. It recommended a classic, traditional, rich meal from the city to start the day. But that lacked a human insight or common sense.
Even on a daily basis, eating biryani is not highly recommended. If it is home-made and if you exercise regularly, yes, it is okay to have biryani - chicken or any meat variant – frequently. You know the ingredients added. You can control the portion size. And you'll sweat out the excessive calories left. But when you have store-brought biryani, which was often made using ingredients that wouldn't meet the nutritional requirements and instead are added solely with the purpose of enhancing the flavour and aroma, we have a problem.
The difference between a normal cereal or millet based meal and biryani is the fat content. When you have the latter regularly, it becomes harmful.
Dr Mumtaz Khalid Ismail
"There are several varieties of biryani – mutton, chicken, vegetable, egg, paneer, fish and beef. Generally, the basic ingredient is rice which can be replaced with millets. Non-vegetarian and paneer biriyanis are a combination of carbohydrates, protein and are loaded with fat. Whereas, vegetable biryani consists of only carbohydrates, fats, vitamins and minerals. While consuming biriyani it should be occasional and should be portion controlled." says Dr Mumtaz Khalid Ismail, Kochi-based consultant clinical nutritionist with 30-years of experience.
"We need to have a balanced meal whether it is breakfast, lunch or dinner – that should contain carbohydrates, proteins, fats ,vitamins and minerals. When you consider that, biryani on its own is not a balanced breakfast dish. But, even if you have biryani for breakfast, it becomes balanced if you pair it with a cereal, legume, paneer or a non-vegetarian source along with vegetable salad and a cup of curd - provided it is portion controlled. Curd is probiotic and gut friendly," she adds on.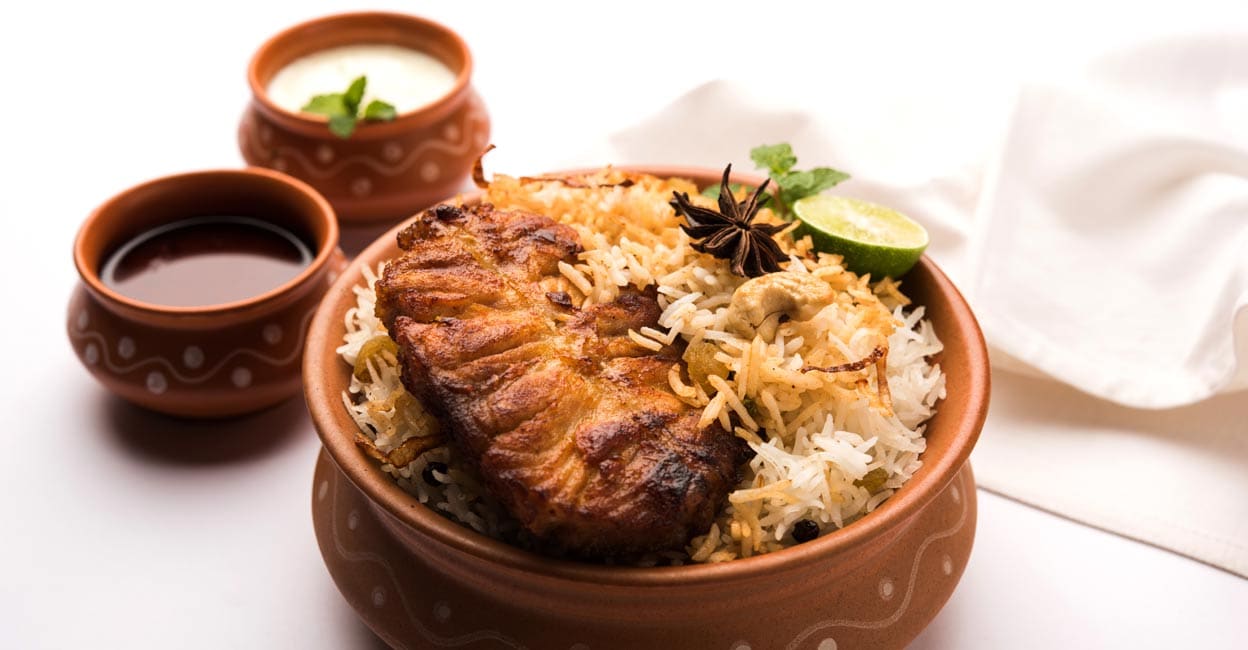 Dr Mumtaz advises against the frequent consumption of it considering a comparatively higher fat content. She suggests that a healthier version of biriyani using millets instead of rice and lesser fat content would be a better option.
"The difference between a normal cereal or millet based meal and biryani is the fat content. When you have the latter regularly, it becomes harmful."
So, it's okay to have briyani first thing in the morning along with a good raita or salad and curd. But is not okay to make it into a habit. May be, satiate the craving with a cup or two on odd days. But it is better not to be put on the same shelve as idly-sambar, oothappam, puttu-kadala or a good sandwich.