India has an obsession with Chinese food or East Asian cuisine in general. Indianized versions of Chinese dishes have dominated the restaurant industry in the country for the past two decades.
The first of the Indian Chinese restaurants in Kerala came in Kochi in the early 80s. Soups, noodles and fuyong topped the menus with Manchurians and Schezwan coming in later. Thanks to the rice-meat combo platter, Indian's, especially South Indians who have rice as a staple, found Chinese cuisine easy to relate to. Popular culture also played a major role in keeping this ubercool status of (Indo) Chinese cuisine with movies and advertisements started playing it up as the 'modern food'.
Many newly opened eateries across the state in the late 90s and early 2000 started introducing themselves as multi-cuisine restaurants by adding some Indo-Chinese dishes in the menu. Three decades later, authentic Asian restaurants serving traditional Chinese dim sum, tofu and more started sprouting up across the state. Yet, the love for classic dishes like manchurian and chilli chciken or fish still stays the same.
How about we pay a tribute to it in our Christmas spread? Check out this easy chilli fish recipe that is right amount spicy as well as sauce-rich.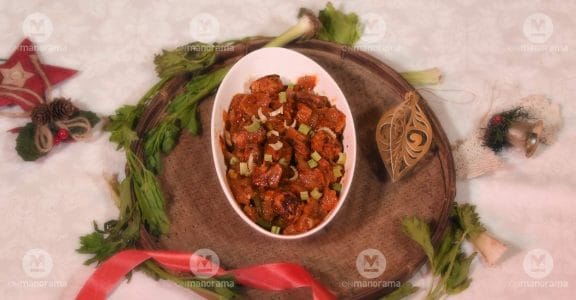 Ingredients
500gm fish, cubed
1 tsp chilli powder
½ tsp pepper powder
1 tbsp soy sauce
¼ cup oil
1 ¼ cup chopped onions
2 tsp pepper flakes
¼ cup chopped tomato
½ tbsp tomato sauce
½ cup fish stock
1 tbsp vinegar
Salt, as required
¼ cup capsicum rings
½ tbsp chopped celery
Preparation
In a bowl, mix chilli powder, pepper powder, and soy sauce
Marinate fish in this paste for about 30 minutes
Heat oil in a large skillet
Shallow fry the marinated fish
Once it is cooked, strain the oil to another pan
Saute the chopped onions in it
Add pepper flakes, chopped tomato and tomato sauce
Fry till the oil separates and rises to the top
Pour in the fish stock and vinegar
Add salt
Once the gravy thickens
Add the capsicum rings and chopped celery
Turn off the flame
Pour the gravy over the fried fish
Garnish with chopped celery and serve