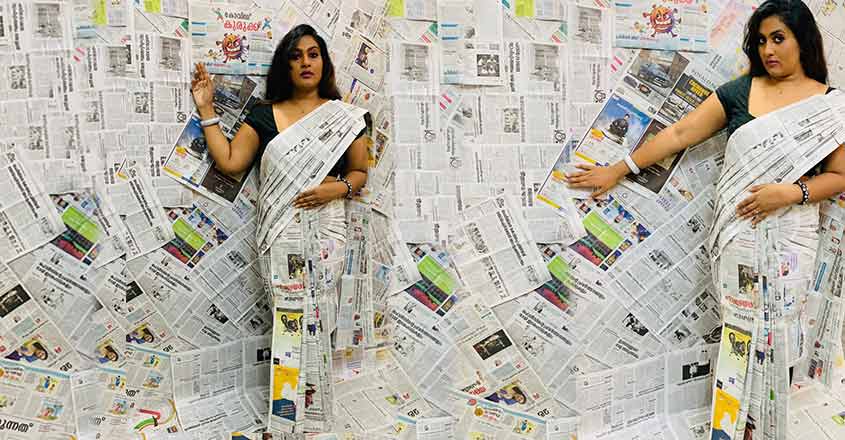 People are rediscovering their talents and hobbies as COVID-19 has locked them down indoors. While some are reading classics or binge-watching serials online, others are experimenting with new recipes.
Another trend that has emerged during lockdown are clothes made of newspapers.
Paper dresses of little children made an appearance on social media platforms first. Now, people of all ages are making fashion experiments using newspapers.
Merin Mariam Mathews, who works at the Technopark in Kerala's Thiruvananthapuram district, too made a similar experiment and came up with a newspaper sari.
When the lockdown was imposed, the IT companies were the first to implement the 'work from home' option. Most of the IT employees then turned their homes into work spaces for five days every week.
"I have been working from home for the past several days. As I have to finish all the projects on time, I work continuously for five days in a week. But this takes a toll on me. Earlier, I used to roam about outside when I felt too much wrapped around the work. However, now with COVID-19 restrictions, I am forced to stay indoors," Merin said.
On her interest in fashion-designing, Merin said, "I have been active in the field of modelling and love to design clothes. Thus, I thought of designing a sari using newspapers. And I set aside an off day for designing and made a newspaper sari."
"For the well-being of our society, we need to stay indoors. If you keep yourself engaged in some creative work, no one will feel bored. Stay home, stay safe," the techie added.