"All I did was believe in myself and work towards my goal," said Manjusha Radhakrishnan, who bagged the Kerala State's Best Costume Designer Award for the film 'Saudi Vellaka'.
Manjusha never intended to pursue a career in the film industry, but she was adamant about honing her skills and pursuing her interest in fashion. From being a partner in her cousin's Indian clothing line store in Switzerland to working with directors such as Vidhu Vincent, Manjusha did not stop herself from taking risks or working hard even in tough times.
Was being a costume designer always part of your plan?
My mother wanted me to be a lawyer. Unfortunately, Amma's illness forced me to leave my LLB programme after a year so that I could take care of her. Even though I was devastated at that time, Amma pushed me to follow my passion for fashion designing. Soon after my studies, I joined my cousin's cloth store in Switzerland. However, my heart was always in Kerala, and I returned after a few years. I also worked as a visiting faculty member at my friend's institute in North India and eventually worked on a few advertisements. The first film on which I worked as a stylist was Sakalakalashala, released in 2019. Although working in film was never on the cards, I was confident that I could carve a niche for myself in the fashion industry.
You have also acted in a few advertisements and films. Can you tell us more about it?
I used to enjoy acting, and I have had a few small roles in films like Sunday Holiday (director Lal Jose's wife) and Vijay Superum Pournamiyum (Aishwarya Lekshmi's younger version's teacher). I studied at Mount Carmel Vidyaniketan CBSE School, Kottayam, where 'Nakshthrakoodaram' starring Suresh Gopi and Swetha Menon was shot. I was given the opportunity to play a small role, but Amma disapproved it. When I was offered a part in Nirappara's advertisement, I had the opportunity to meet Lalettan. But now, I adore working behind the camera. I enjoy the rigorous and challenging backstage tasks.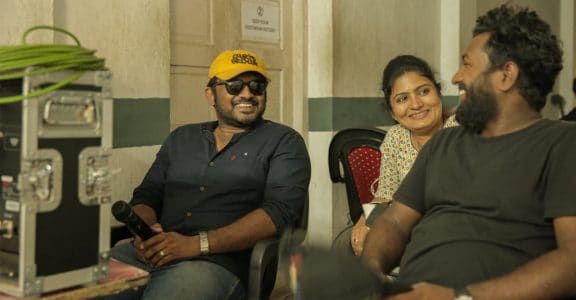 Can you share your experience while working in 'Saudi Vellakka'?
It was an exciting journey! The first time I read the film's script, the colour palatte of a few movies, such as Turkish film 'Mucize' and 'The Short Story', came through my mind. I shared it with DOP Sharan Velayudhan, who backed me. All these films have a mild yet catchy muse that must add life to the story. I visited Saudi (in Kochi) to understand their way of living and dressing style. The production period was challenging with the Covid-19 situation. Since the protagonist, Devi Varma's character- Ayisha Rawther, is an aged person, we had to be careful while choosing our material and dye. We chose the natural process for dying and each saree was dyed seven times to give it the desired look.
Each character had its own depth and our focus was to bring it through their attires. For instance, Sujith Shanker's character Ayisha's son, Sathar, has an identity crisis, which must also be depicted in his outfits. We chose raw cheques and loose sleeves for oversized shirts. A wrong attire would feel out of place. We visualised the characters while reading the script, which actually helped us in delivering the right output.
I had also worked with Tharun Moorthy in his first film, 'Operation Java'. He believed in my work and kept reminding me from the beginning, 'Manjusha! The aim is a Kerala State Award!'. I always wanted to be a part of good films and crew and collaborating with Tharun has been a unique experience.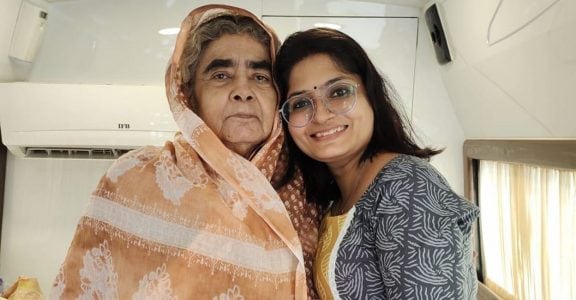 Did the Kerala State Award come as a surprise?
No, I have always dreamed of it (laughs). My team and I put a lot of work into 'Saudi Vellakka', so I am glad the jury appreciated it.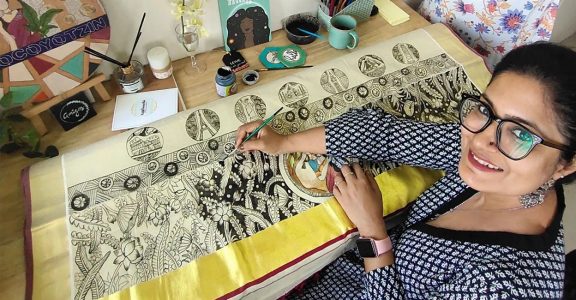 About 'Vastramika'
'Vastramika' focuses on both everyday clothing and ethnic casuals. I adore fusion fashion, and our best-selling sarees are hand-painted, especially around Onam, Christmas, and Vishu. I create patterns and designs and hand-paint them myself during my free time. I believe handlooms have room for exploration, and I would like to work more on them for Vastramika. I have a workspace in Kochi. Vastramika has also been a part of various flea markets here.
Somebody or any industry you would like to work with
I have a small list of artists I would love working with: Vineeth Sreenivasan, Prithviraj, Mammotty, Nayanthara, and Vidya Balan. I would also like to collaborate on fantasy movies and a Tamil production.
Future projects
I have a lot of films scheduled from next month. Most of them have not yet been announced. This year is exciting for me!