"The modern society has been using tattooing as a means of self-expression. Why not have one in the traditional way?" asks Syama Devi, founder of Dreamcatchers Tattoo Studio in Kadavanthra. Her love for this art began 14 years ago, and she has not left any stone unturned when it comes to learning anything new about tattooing. The latest in Syama's list is Bamboo Tattooing'.
In a candid conversation with Onmanorama, Syama explains the meaning and characteristics of this type of tattooing.
What is bamboo tattooing?
In simple words, it's a hand-poking technique that originated in Cambodia. It is their traditional way of getting inked. The method involves a bamboo stick that has a needle at the end to tap the ink on the skin. This method is commonly used in Buddhist temples, where monks create designs and tap them on a person's body while chanting prayers. Nowadays, we use a steel stick, but the process is the same.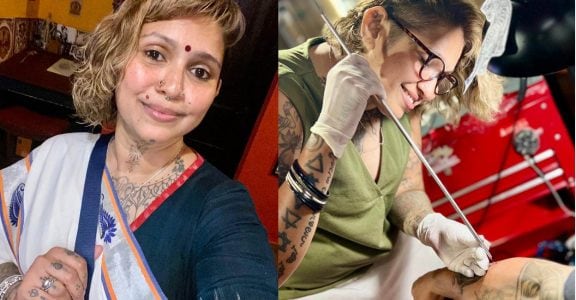 What is the purpose of such a tattoo?
Bamboo tattooing uses a small selection of specialized designs that stand for purposes like protection, abundance, health, and love. Before tattooing, monks explain the designs and their significance to the clients so that they can chant prayers that serve the latter's requirement. I have heard South East Asian folklore about warriors getting such tattoos with prayers and spells before heading to battle in the past. I have also been told by my tutors that these tattoos give immense optimism to people who believe in their meaning and purpose.
What are the patterns used in these tattoos?
Every design used for bamboo tattooing has letters encrypted into it, which denote a prayer. Some designs have turtles, tigers, crocodiles, and money bags, symbolizing each purpose.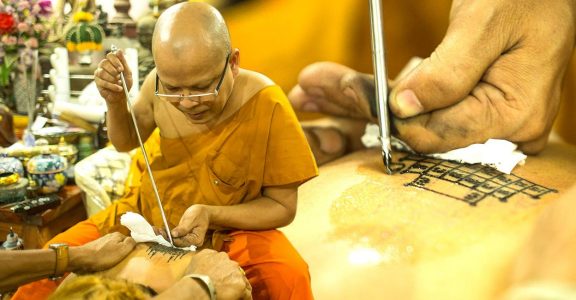 What are the safety measures taken while tattooing with this method?
The safety measures are the same as those we take while tattooing in the typical way, which involves a machine with a single-use needle. To ensure that our clients have a safe and easy experience, we adhere to strict hygiene norms and discuss it with them.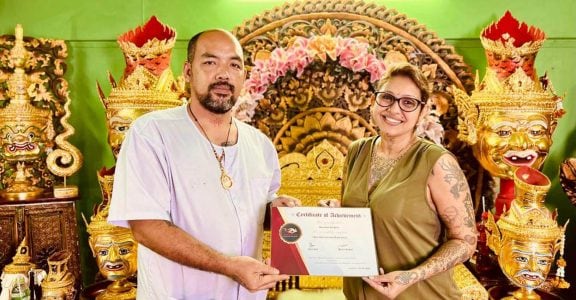 Where did you learn this art of bamboo tattooing?
I had been wanting to learn the bamboo tattooing procedure for a long time, but my preparations had to be put on hold due to the pandemic-induced lockdown. It is comparatively a tough technique, and I learned it in Thailand. It takes time, practice, and patience to learn this art.