From testimonies of several Covid-19 survivors it has been found that breathing techniques have helped the capacity of lungs in the early stages of the disease. Mini Jose, a Kerala-born physical therapist in Texas, US, shares in a YouTube video, the breathing techniques, which she had recommended for her patients with chronic obstructive pulmonary disease (COPD) and pneumonia. Jose says that Covid-19 in a patient ultimately leads to pneumonia in later stages.
When one has a viral infection, she or he will be tired and would be spending most of the time in the bed. So what many survivors of the pandemic say and also the general recommendation for pneumonia is not to spend much time in bed. In doing so, the mucous formation will accumulate in the back or the lower part of the lungs, especially when one lies flat on the back, she says and adds it is better to walk a little and do some breathing exercises.
Mini Jose recommends four stages of the breathing techniques:
Breathing with pursed lips
"In this stage one should breath in slowly for a count of three and breath out for a count of four," Jose says. She draws the example of smelling the rose for breathing in and blowing the candle for breathing out.
According to her one should avoid shallow breathing when there is difficulty in breathing. "Shallow breathing will not let the air reach the lower part of the lungs," she says.
Diaphragmatic breathing
Diaphragmatic breathing is done by focussing on the diaphragm. One can place the hand on the area of the diaphragm to feel its muscles heaving while taking breaths. "By diaphragmatic breathing you would be breathing into the stomach. The timing is the same as inhaling for a count of three and exhaling for a count of four," she says.
Deep breathing to the lower lobes
"In this we mainly focus lower part of our lungs as fluid accumulates primarily on that area," Jose says. One can keep the hands on these areas to ensure that the breathing is done into those parts of the lungs.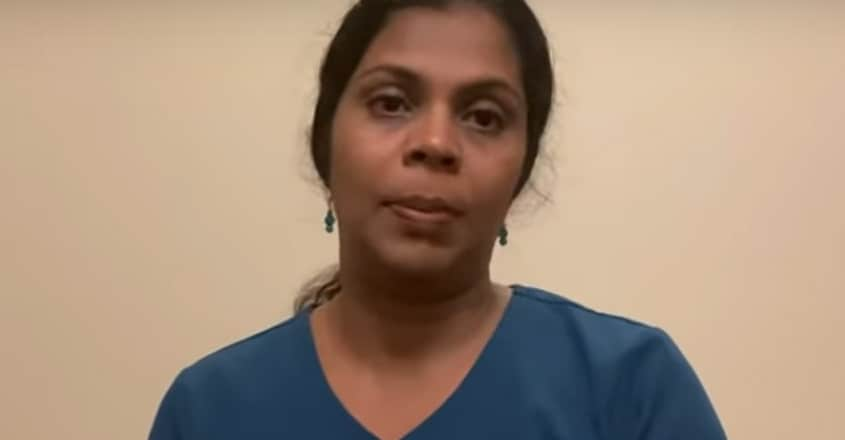 Deep breathing with end hold and a huff
This exercise helps move the secretions if any, out of the air holes and there by the lungs. In this one should take a long, deep breath and hold it to the top of the lungs for five seconds and then cough to the side with a huff sound to force the air out of the lungs.
According to Jose it is quite natural if one coughs by doing that. She says the four stages form a cycle and one can repeat each of the techniques twice or thrice and then complete the cycle and may also repeat the whole cycle several times. She has posted videos both in English and Malayalam.