Legacy might play the role of a catalyst in a person's achievement. But to stand apart with a remarkable feat requires strong resolve and an invincible spirit to rise and excel, which helped six-year-old Kottayam girl Vedamitra to pedal 1,000 kilometres in 166 days.
Her rides were recorded in the mobile application Strava, which tracks individual exercises and sporting activities using social network features.
The Class one student's remarkable achievement was appreciated by sundry on social media, especially, the community on Strava, which, apart from recording activities, has a communication link between members involved in various disciplines of sporting activities.
Lockdown in a cycling family
Vedamitra took interest in cycling long before the pandemic struck and lockdowm was clamped.
Promod M S, Vedamitra's father, is a cycling enthusiast and has been active in the sport for the past 10 years and is the secretary of Kottayam Cycling Club.
Her elder sister Devamitra is also a budding cyclist who has been accompanying her father in the early morning drills for quite some time now. The Class 7 student has completed 4,000 kilometres recently.
When Vedamitra was old enough to the realise the thrill of venturing out like his father and sister, she too joined them for the early morning spree. "When the lockdown was imposed, like everybody else, we too faced the odds of being confined to the four walls of our home. It was then Vedamitra decided to outsmart her own routine rides," says Promod, "I installed the Strava app for her to take her ride serious and she followed it up accordingly."
How Vedamitra took it upon herself
Vedamitra had started cycling in April 2020. She accompanied her father and sister along the plane, deserted roads. "When she completed 500 kilometres we posted the Strava record on Facebook. It invited a lot of appreciation from people across the globe. Vedamitra received encouragement from various quarters for her enthusiasm at a very tender age. There was no looking back since then," says Promod. She followed her routine trek with an unbridled passion and commitment.
Braving the tough routine
Vedamitra, being a small kid, had to be rested enough after every ride. It was very important. If she goes for ride one day, the day next she would be resting. There was no much focus on diet. Apart from the regular, they only stocked chocolates, snacks and water to be consumed on the way. 'We start at 6 am and come back by 7.30 am after trekking through the countryside roads. Since the kids have been doing skating we're used to the get up at 4 am to prepare for competitions. So there has been no hiccup in getting ready in the early morning to go for the ride," says Promod.
And, there will be no ride if one is unwell. "The primary intention is to enjoy the ride to the maximum," Promod adds.
Vedamithra rides a gear-less cycle and hence they avoid elevation and select mostly the plane roads. She rides at an average speed of 10 kmph and covers almost 18 km on an average a day. She had completed 1,000 km on October 2 in just 65 such outings.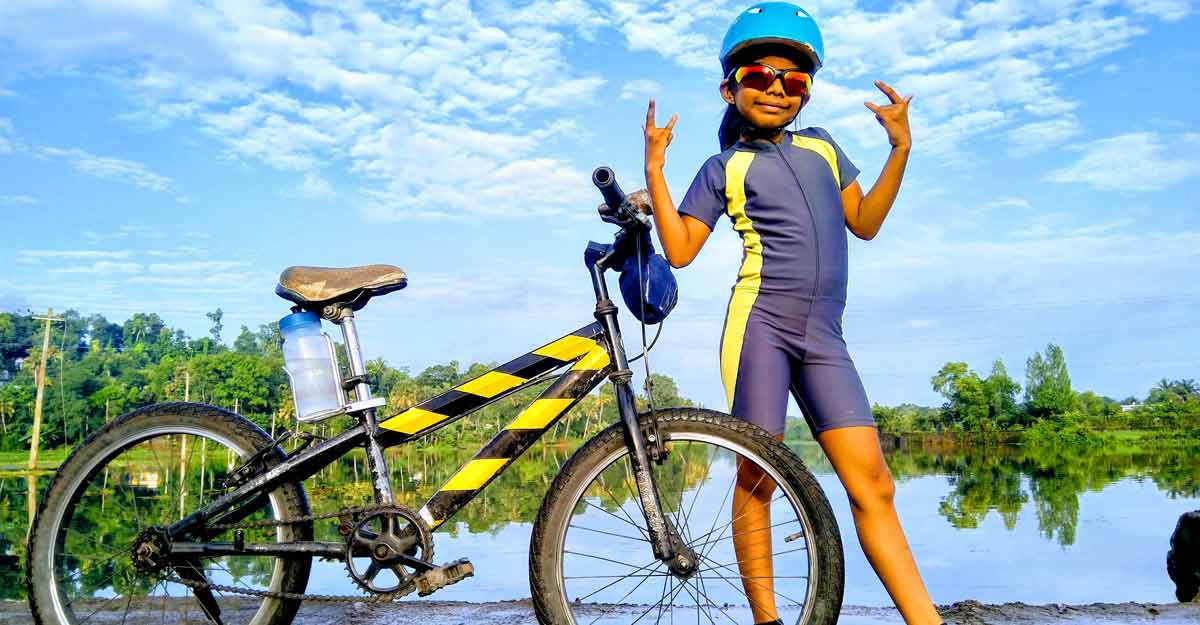 The little champ
A student of Lourdes Public School in Kottayam, Vedamitra's champion spirit was already on show when she won the Kerala State Roller Skating Championship last year. This earned her an one-time scholarship of Rs 25,000 from the Tata AIA Life Insurance Company, which awards kids of its employees for excellence in sports. She was the youngest among the 10 kids in India selected for the scholarship.
The tiny tot has evoked immense sway on whoever she has met in a short span of time after she ventured into cycling. It's her vibrancy and energy, which are appreciated by others. An even more enthusiastic father Promod, is prepping his daughters for State-level competitions and the world's major cycling event Tour de France is a vital source of inspiration for them.
"Till recently, kids from neighbouring districts were representing Kottayam at State cycling competitions. That's the reason why like-minded denizens of Kottayam like us strived to form the cycling club in the town," says Promod. And, as to what made her pursue cycling, Vedamitra promptly says, "I like going out with my father and elder sister."