Even when his body weight crossed a century Thodupuzha resident Vanchishwaran remained unaffected. He cared less about his ever-expanding waistline. Until one day his tailor ridiculed his size. Though he has been at the receiving end of taunts since childhood, the tailor's words really hurt him. And that was the day, he made a decision that changed his life. Come what may, he was going to bring his weight down from 100. And that resulted in him reducing a whopping 54 kilos in just a year.
Vanchishwaran talks about his weight loss journey.
Barbs since childhood
Ever since he can remember he was always fat. That's why till the age of 36 he felt no inferiority complex. Right from school, he has heard many taunts about his weight. He recalls being asked where he gets his rations to several other painful taunts. But surprisingly not only was he unaffected by these barbs but it never crossed his mind to lose weight. Lack of exercise, desk job, and overeating resulted in his weight gain. Though he didn't have any major health issues, it was difficult for him to walk.
From 144 to 90
His T-shirt size was 5XL and his pant size was 46. Though it was difficult to get the outfit of his choice, it never really bothered him much. He was happy with what he had. He used to wear stitched shirts. But while taking measurements the tailor-made fun of his size and said it was difficult to stitch a shirt for someone of his size. That really hurt him. That night he told his mother and wife that he was planning to reduce his weight. Since he was making such a decision for the first time in his life, they encouraged him. His journey became easier when he joined an online fitness and fat loss group. He learned how to lose body weight, the importance of workouts and how to do each workout from there. According to their instructions he bought resistance bands and started doing band workouts and HIIT at home. He also started doing weight training at the gym.
He reduced the carbo intake from his food and increased his protein intake. For someone who loved eating rice, he hasn't eaten rice for a year. He learned the correct amount of calories he required in a day and started a diet that included the right amount of proteins and nutrients. His breakfast usually consists of boiled moong dal, one banana, small quantities of papaya or any other fruit, dried chapati, or vegetables.
For lunch, he would have chickpeas, boiled beans, and egg whites, and for dinner mostly an omelet. He would have protein soup daily.
His wife and mother would prepare the meal he required and help him on this journey. While his children reminded him to do his workouts. That resulted in him knocking off 54 kilos in a month.
From 5XL to medium
At the age of 36, he dropped from 5 XL to medium within a year. The pant size dropped to 34 from 46. He has been told that he looks half his age. Another turning point in his life was finishing a 5-kilometer spice coast marathon in 35 minutes.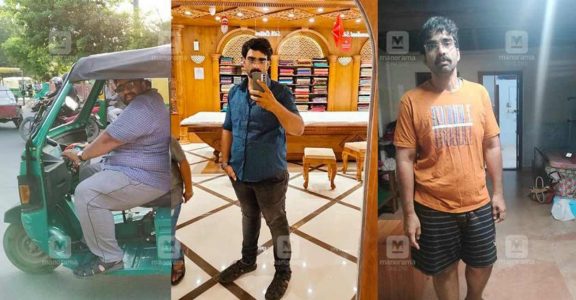 Interesting incidents and jokes
He is a businessman. He is used to meeting some customers after months or years. An interesting incident happened at work. Once when he was riding his scooter he got a call from a customer who warned him that a thin man had stolen his scooter. Though he tried to tell the customer that the guy was him, he wasn't convinced. Finally, he came in person to convince him. That customer was seeing him in October after meeting him in January. He was astonished to see the change in Vanchishwaran within a span of 9 months. In fact, a lot of people who meet him after months have asked him if he is Vanchishwaran himself. There are people who don't recognize him, ignore him, won't smile back when he smiles at them, and recognize him through his voice alone. Then there is the joy of witnessing the utter shock of those who proclaimed he was never going to lose weight. So many such priceless moments!
Thank god for that tailor
It was the tailor's words that gave him a new lease of life. Though he left the shop that day with a heavy heart, today he feels those were God's words. If not for his words, he would have still continued to be his heavy, unhealthy self. By 2023 he hopes to bring down his weight to 80 kilos. Though his mother is sad about his weight loss and has told him not to reduce any more weight he is aware of the benefits of losing weight now. Therefore he is planning to retain his current form.