As a Mumbai-based grandchild of Palakkad with relatives in a few parts of Kerala, there is still so much of the state that I haven't seen. I had heard of the beauty of Idukki district and the tranquility of the not-so well-explored parts of central Kerala, but until last month, there was no opportunity for me to see some of the treasures of the region. One such chance came in the form of my assistance being needed to help a Ukrainian friend who was looking for an Ayurvedic hospital in Kerala.
So there I was in Thodupuzha, a place that I had never heard of before. A web search gave me some basic information of the riverside town, but it's hard to feel the pulse of a place unless one sets foot there. Thodupuzha turned out to be full of surprises, not the least of which were forests that surrounded and grew into the town. I had kind of expected a Ukrainian man in his 60s and his young daughter to be objects of wonder for a small nondescript town that was way off the tourist map, but curious locals extended warm smiles to them and left it at that.
I heard stories of last year's floods and how they destroyed these parts of Kerala, but it's impossible to believe the devastation caused by them when you see how much the state has picked itself up and moved on. Given the fact that I didn't wear a mundu or lungi, most locals assumed I was a "North Indian" until I spoke in accented Malayalam. That was enough for me to be treated like a long-lost cousin visiting home.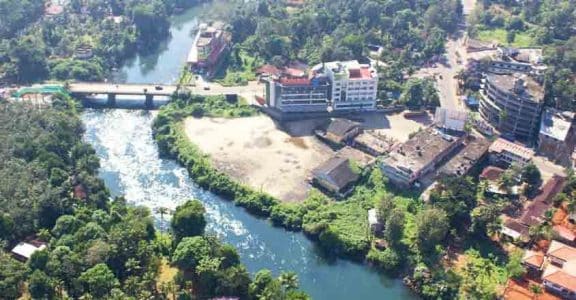 Central Kerala is in many ways what we want all of India to be. Clean, green, peaceful, inclusive and visibly prosperous! One doesn't see the extreme and desperate poverty that is part and parcel of many places in India. There aren't islands of progress in a sea of misfortune. It's also easy to tell that personal hygiene is valued a lot when you enter a bus full of people smelling like that they just had a bath.
As touristy as the famous parts of Kerala are, the land is so rich in natural beauty that it's easy to find places that are relatively untouched by tourism. One easy day trip from Thodupuzha is the town of Vagamon. Seeing overcrowded hill stations in the north, I was pleasantly surprised to find this tea-growing region that has maintained an old world charm. With rising elevation, lush tropical jungles make way for a different kind of greenery, flatlands and pine forests.
Where a river divides districts
The best surprise for me was the villages that are a few kilometres away from Peruva. I managed to find a blissful homestay by the river. Two bridges connected the land across the river, with one side being in Kottayam district and the other in Ernakulam district.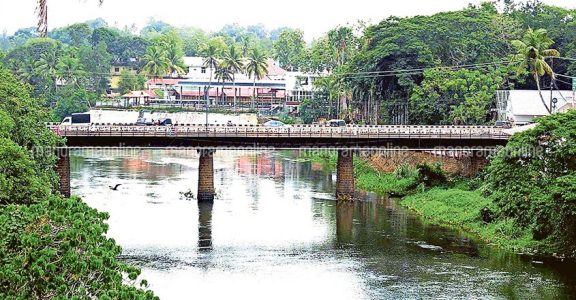 Despite the heat of May, the cool river breeze kept the days and evenings pleasant. These villages were also destroyed by last year's floods, but now show no trace of the mayhem. Each house, whether it's a mini-mansion built by a NRI or a more modest one-floor cottage, has its own collection of flowering trees. Nothing compares to taking a morning walk on a road where the scent of flowers can intoxicate you.
The disadvantages
So what are the negative points of life in such parts, I asked a couple who left behind an exciting life in Singapore. They said they missed the cosmopolitan environment and their diverse circle of friends. But then again, the pristine air, clean water to swim in, cultural treasures and a laidback lifestyle was as close to a fair exchange as they could expect.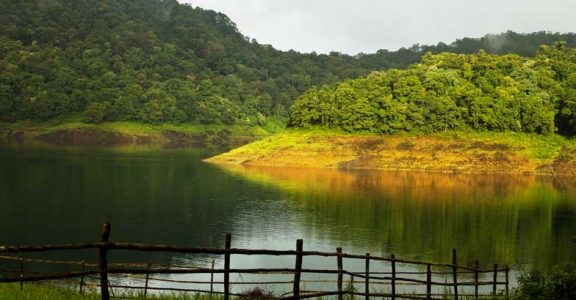 As I sat by the river, observing a crimson and blue twilight and listening to the peaceful chants from a nearby Bhagawati temple, I realised how blessed I was to always have a place like this to go back to. A land rich in natural beauty and diverse cuisine. A place where my language was the default!
A summer sojourn in God's Own Country has motivated me to get my Malayalam up to the mark and plan a much longer stay where I could immerse myself in the landscape and contribute to its rich literary tradition.