On the morning of April 1, 2023, a group of Malayalam-speaking college students sat in a hall in Kochi's Cabral Yard and watched a documentary film about songs of love and naughtiness from Nagaland. Anushka Meenakshi's film titled Up Down and Sideways gave these young students a rare glimpse into the life of villagers in Nagaland's Phek District. Speaking to a couple of them, this writer could easily gauge that they were moved by the plight and genuine struggles of the people in the state, which has a long history of insurgency. The only contact that most Keralites have with Nagas is when they interact with service staff from Nagaland who work in Kerala. This film provided a genuine opportunity to slightly understand Nagas.
Late to the party, this writer (despite spending all of February in Kerala) only visited the Kochi-Muziris Biennale less than 10 days before its closing. This international exhibition of contemporary art, the largest in Asia, is a blessing for Kochi. The city has always been a melting pot and crossroads of culture and it is apt that it hosts such a large exhibition.
Scanning the works on display over the weekend, it was obvious that there was complete artistic freedom and freedom of expression. One may not agree with the views of an artist on a specific issue, but it is important to give the person a chance to express them in this form. It's hard to imagine so many of the exhibits being allowed to be displayed in other parts of India in this political climate.
What did happen though was people flying in from different parts of India and engaging in healthy discussions instead of the name-calling and abuse that is visible on TV shows and social media. The exhibition seemed to be held in the spirit of English writer Evelyn Beatrice Hall's quote from her book titled Friends of Voltaire: "I disapprove of what you say, but I will defend to the death your right to say it."
A global forum for Kerala artists
Such exhibitions are also a great forum to highlight the works of Kerala's writers, photographers and artists. The timing of my visit just did not coincide with the staging of a play based on a short story by N S Madhavan or a documentary of cartoonist E P Unny. However, as a fan of the Malabar region, it was wonderful to see the photos of the people of Kondoty by Biju Ibrahim. There was a dreamlike quality in those images from a place that not many people visit.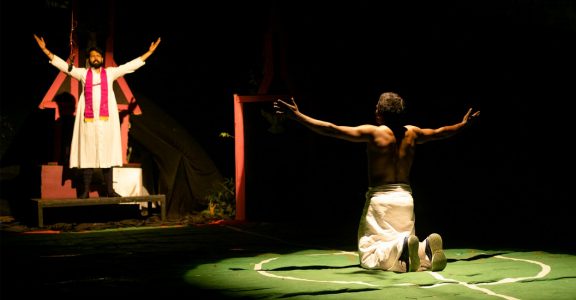 In addition to putting Kerala on the global art calendar, the Biennale definitely gives a boost to some of the finest artists in the state.
A personal highlight was being able to attend T M Krishna's concert, where he sang Sri Narayana Guru's compositions. Anyone sitting in that jam-packed hall and looking around and seeing the audience comprising mainly people in their 20s and 30s would be filled with hope about the future of India - a country that one prays becomes more equal and humane in these tempestuous times.
The Biennale had its problems, and Kochi, as a city, should be managed much better than it is at the moment. However, it was commendable that the exhibition was staged after dealing with delays on account of Covid and other issues that will not be mentioned in this column.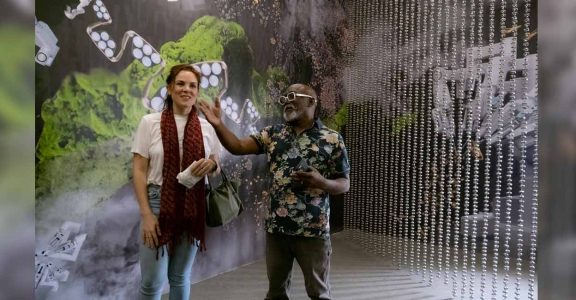 Kerala with its multi-religious and pluralistic society is an ideal place to showcase the best of India. It would be in the best interests of the state if it became one of the world's art capitals. Some of us were fortunate enough to be in the city to watch and take part in the Palm Sunday procession at the Santa Cruz Basilica, home of the great works of Antonio Moscheni.
Next time, at least a fortnight needs to be set aside to properly enjoy the abundance of art on display. As for the edition that concludes on Monday, this writer's personal favourites include a set of sketches by prolific artist Vivan Sundaram, who recently passed away, and Jitish Kallat's Covering Gandhi, a fog screen projection of a letter written by Mahatma Gandhi to Adolf Hitler.
(The author is a multilingual writer, primarily based in Mumbai)