A vibrant, feisty Ammachi sports an unusual accessory on her clumsily tied sari- a belt with an assortment of odd tools like a hammer and spanner. A young boy clad in a yellow check shirt and shorts stands nearby grinning from ear to ear hoping to entice his granny to cook his favorite snack- a coconut barfi. Soon the duo embarks on a journey of physics deploying simple machines to achieve their task.
Rajiv Eipe's Ammachi's Amazing Machine is nothing short of a little wonder. While the 15-page-long children's book can be lauded for breaking gender stereotypes with the mechanics-loving granny and a Malayali boy enthusiastic about cooking, the book's illustrations are what keeps us wanting more.
Tata's Big Little Book Award winner and children's book illustrator Rajiv Eipe is known for his quirky, wildly imaginative illustrations which engage his little reader with information and a taste of the real world. His books like Anand, Dive and Nature Trail have some of the finest illustrations.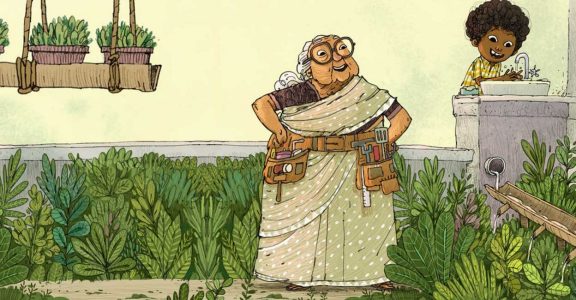 Onmanorama speaks to Rajiv about his journey as an illustrator.
As an illustrator, you could have opted to do illustrations for comic books, websites, magazines, or newspapers. So why children's illustrations? Was it a conscious choice or a happy accident?
I do a lot of other things besides illustrations, including animations. I was working at an animation studio in Mumbai when I was first approached by Geeta Dharmarajan of Katha Books for illustrating a book – Dinosaur-Long-As-127-Kids. When I saw the illustrated book with my name on bookshelves, touching little hearts it was an enriching experience. Though I hold animation jobs, this is the reason I always make time to illustrate children's books.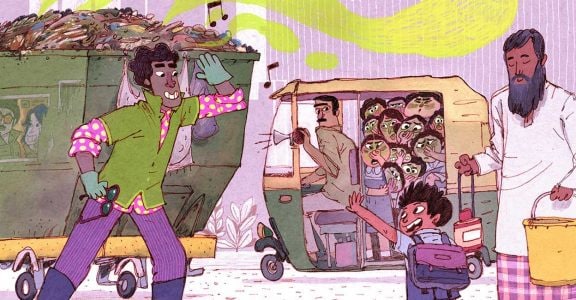 You've learned in some of the finest art institutions in the country. Sir JJ School of Art for graduate studies, followed by a course in animation film design from the National Institute of Design, Ahmedabad in 2004. So where did it all start? Tell us something about the little Rajiv Eipe
Little Rajiv Eipe loved to draw. My mother always encouraged me to send out little handmade Christmas cards and birthday greetings. As a child, I'd draw copy cartoons, comic strips and caricatures from newspapers.
My paternal grandfather who hailed from Kottayam also played a major role in motivating me. He once travelled to France on his job. He was visibly influenced by artists like Michelangelo after his visit there. He wanted me to join the league of great artists, even before I could comprehend about Fine Arts course.
A child's world is very different from an adult's. They observe and interpret different things, which is one of the reasons why children's books need a different approach. Could you tell us what inspires your artwork and the illustrators you look up to?
I was not much keen on reading at a young age, as opposed to my brother who was an avid reader. But pictures drew me into the books. We used to subscribe to Target magazine. Comic strips like Detective Moochhwala by Ajit Ninan and Jayanto's Gardhab Das were wonderful.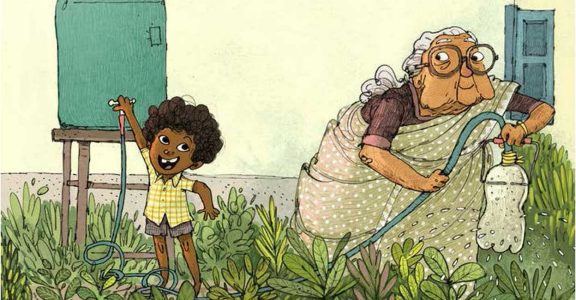 What was your inspiration while sketching Ammachi?
The inspiration was my two grandmothers. One lived in Kottayam and another in Thiruvananthapuram. We used to spend the summer holidays there. The idea was to have a fun and interesting story which incorporated the concept of simple machinery in the story. The story went through many iterations before being narrowed down to this.
Your illustrations capture a child's mind in a heartbeat. Anand with his garbage truck, vibrant purple Puchku are everything but conventional. They're different from the typical 2-D illustrations seen in children's books in India- the attention to detail, choice of colours and even the subtle humour. What prompted you to adopt this style in your illustrations?
It was not a conscious plan. I have always been drawn to stories with humour. Details add authenticity to the story. It makes the characters more real, rounded and three-dimensional placing them in real space than a generic space. It also adds to the story.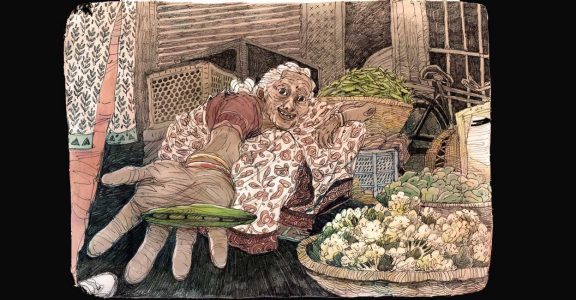 Now something on your working style. How do you go about producing a children's book? Does the author of the book communicate his/her requirements to you?
A publisher usually gets intouch with the illustrator after a manuscript reaches them. There's also an Art Director involved and there may be a brief which details the mood or the setting of the story. When there is no brief, you have to interpret it after reading the manuscript.
Do you work on a wacom tablet or directly sketch?
I am a big fan of sketching on paper. I generally draw on paper with a pencil and colour using a computer. Wacom tablet is usually used for my assignments in animation.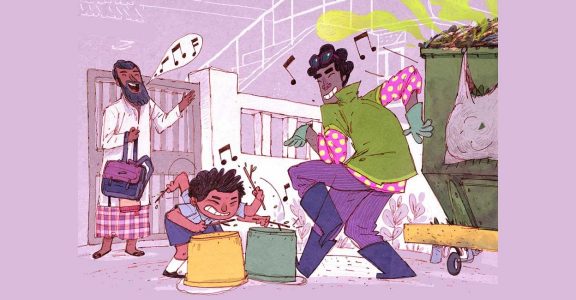 When you won Tata's Big Little Book Award, the jury called you "One of the finest illustrators in this country." How did you feel when you won the award? Has it increased your responsibility towards your young readers?
I was left teary-eyed when I first heard of the nice words BLBA's jury had for me. The award has motivated me and the whole children's books industry. Awards like BLBA give the much-needed fillip to children's books in all languages.
Illustrated books for children is only an emerging industry in India. In your opinion, what's the scope of children's books in India?
There's a yawning gap for children's books in India. Many parents are concerned about the lack of children's books in vernacular languages. In fact, some of them started producing such books after feeling the gap. But recently there has been a lot of growth in this area.
These awards actually throw light on such books. BLBA is focussing on Malayalam this year.
Have any of your young readers approached you? Could you recall a particularly memorable comment?
Its endearing when parents share pictures of children reading your books. Sometimes they share images of kids drawing your characters.
We live in a world where children can't colour bunnies red or giraffes green. They are taught to stick to convention. Do you have any message to the young artists out there?
Kids should not be forced to stifle their imagination. They should be allowed to explore art in the way they see fit. There will be a time when they need skills. But they should be allowed to do lots of art without restriction.