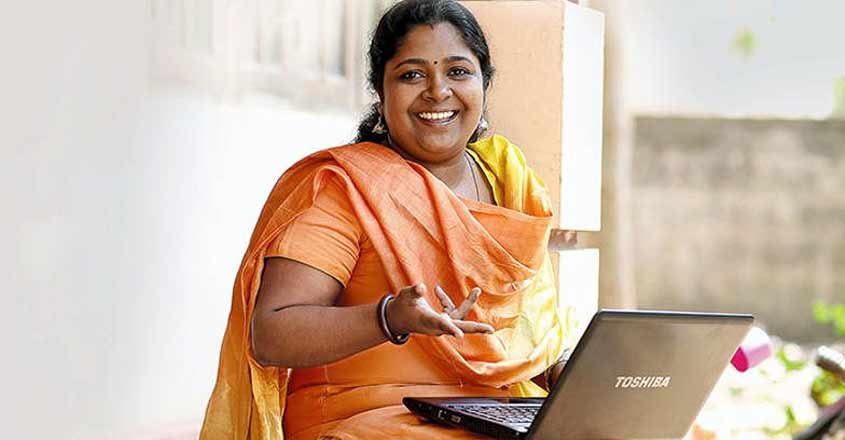 Young entrepreneur Asha Bineesh is an online competitive exam trainer who successfully manages online classes for job aspirants. She schedules her classes according to the vacant positions reported by the PSC in various departments, companies, and boards. Besides, she holds regular online coaching sessions to crack the PSC exams and bank tests.
Hundreds of young job seekers sign up for the various online crash courses and training sessions in current affairs offered by Asha.
Asha was working as a software programmer in a company during the time of her wedding. However, she quit her job after giving birth to her first child. Asha decided to start online coaching classes from home as she wished to be with her young child and working at the same time. She began by posting the video of a training session for PSC exam in YouTube. After the video became a hit, Asha began to concentrate more on online classes, and has been successfully doing it for the past one year. Meanwhile, she also opened a coaching centre in Ernakulam.
She offers special packages to give training in competitive exams for the appointment of LD clerks and Last Grade servants. Asha charges up to Rs 3500 per person depending on the package an aspirant chooses. A session may extend up to 6 months to a year. Intensive training is given during the days close to the exam. Asha says that more people join her online training sessions during those days.
Besides Asha, there are six more members who are part of the online coaching faculty. She handles mathematics and general knowledge while the rest of the subjects are taught by concerned experts. Those who are experienced and well read in all the subjects are usually appointed as a faculty member. During busy hours, the service of guest faculties too is availed.
Asha says that a laptop and a website are her only investments in this business. The faculties are paid according to the hours of classes handled by them. Asha vows that she is able to earn more than Rs 50,000 per month by conducting online coaching classes.