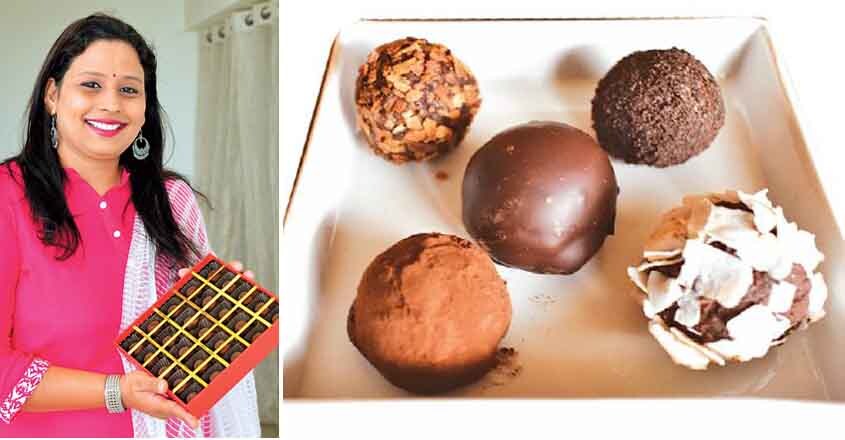 Casa Chocolata sure is one ultra urban name for a chocolate brand. But Tamil Nadu-born Srividya Jayaraman had no qualms about the Italian name for her enterprise in sweets… chocolates, to be precise.

''The Casa Chocolata translates to home-made sweets,'' says the entrepreneur who makes about Rs 25,000 a month from her sweets sales.
The moment the business idea was born, the name cropped up. She could not think of any other name other than Casa Chocolata. Srividya makes ten flavours of sweet-chocolates right from almond, butterscotch, mocha, fruit and nut, caramel, centre filled to ganache filled. More to come are Belgian chocolates in plain and sea salt flavours.
Though born in Tamil Nadu, Srividya was raised and educated in Delhi. She remembers the family coming to Kerala during monsoon, a trip that became a regular feature. This unfailing regularity instilled in her a fondness for the state. This love was shared by husband Manoj and son Vedav. It was in fact on Vedav's insistence that the family decided to make Kerala their home three years ago.
The early days were a bit unsettling as the family hardly had any friends around their new home. To kill time and find a hobby, Srividya turned to chocolates …. not to eat, but to make and then on to cup cakes. She began by participating in food fests and exhibitions. It was the contract she won during the first exhibition that got her going in her venture. ''I got the certain and sure conviction that this was to be my business from the orders that came pouring in,'' says Srividya.
Chocolates were always a hit with the family and she remembers how her father used to come back home loaded with Belgian chocolates after his trips abroad. The family still retains its fondness for Belgian sweets. ''I make them with the finest cocoa and cocoa butter. Tough they are, therefore, pricey, there need be no doubt about their goodness and nutritional value,'' says the sweets maker.
Eat good chocolates and forget cavities, she says. It's the quality that matters. This is another reason why families go for home-made chocolates.
Last Valentine's Day saw a rush for heart-shaped chocolates. It's during festive occasions that demand goes up, she adds.
The chocolate success story gave her the guts to go ahead with cakes. A total vegan, she scouted round for eggless cakes, but could find none. So she decided to bake some herself. But eggs are added in for those who want them. She's now an ace at baking custom-made cakes. What surprises Srividya is her growing list of orders made by folks who've known her for just about a little time. ''It's more surprising because I'm not a Malayali,'' says 'Ernakulam-native' Srividya Jayaraman.