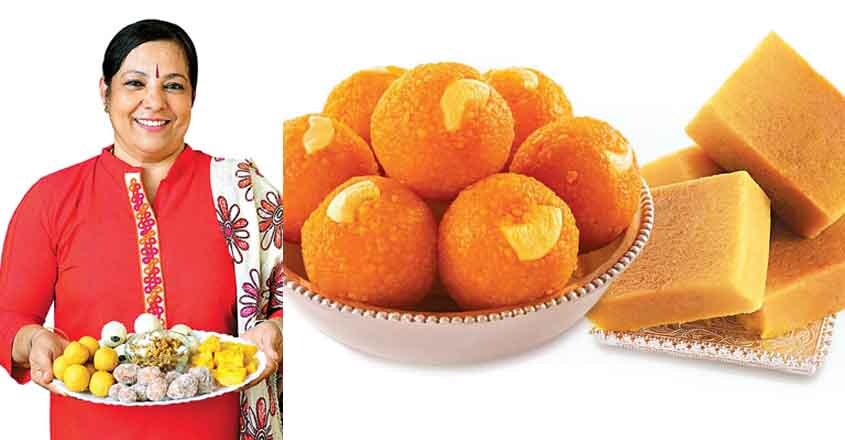 Beena Bhat's sweets are too sweet for words. Take for instance 'dudeli,' made with Bengal gram dal that would give Mysore pak a run for its money, or 'mando,' a sweet samosa, or the sweeter porridge made with wheat rava, thick molten jaggery, and coconut milk. The porridge is stirred till it thickens and is then treated to pieces of ripe, chopped jackfruit. These and a host of other goodies galore roll out in joy out of Beena's kitchen.

"We are Goan Konkanis who migrated to Kerala years ago. In fact, our forefathers chose to make Kerala their home," says Beena. Be it breakfast or lunch, a sweet on the left side of the plate is a must for the community. This intense love for sweets has been reason enough for the womenfolk to experiment with ingredients and come up with novel eats.
Things got going when Beena found herself finding ways to beat boredom after her daughter went off to hostel. The success of her sweets at home was inducement enough to extend it outside. Thus was born her business. It all began 20 years ago and Beena is happy with her modest turnover of Rs 10,000 a month.
The community loves different types of sweets for different occasions and festivities. Therefore, monotony is absent in their food items. Sweets made for Janmashtami are totally different from the ones served at Navaratri. Diwali sees yet another set. On all nine days of Navratri, a sweet and a choondal are musts on the menu. Choondal is a no-onion, no-garlic stir fried black chickpea dish mixed with spices and coconut. Sughiyan, another, sweet savoury is made with Bengal gram, red cow beans, chickpea, jackfruit seeds and sweet potato.
Pola fedi is another melt-in-the-mouth sweet dish made by grinding boiled rice and made into an ada. The ada is then cut in diamond shaped pieces and mixed for long in coconut and molten jiggery.
Despite the sweet dishes galore for Diwali, a special something with rice flakes is a must. The flakes with a lot of improvisations become part of fruit salad in Beena's deft hands, an item that has quite a lot of takers. This drink which looks like java plum is quite a favourite. The other hits are rava laddu and besan laddu. The next in line is Mysore pak. Beena's USP is her gift box with assorted sweets. Being unusual in taste, flavour and sweetness, the sweets box is much in demand.
"Folks being very health conscious these days, the demand for sweets low on sugar and ghee is higher," says Beena. She observes customers' needs without compromising on taste and quality. She gets four to five major orders a month for birthdays or weddings. Picnic orders, too, come in for a sandwich and a sweet in a box. She's all of for folks coming in to buy her stuff rather than delivering them to shops.
Being a playschool teacher, it's during the holidays that Beena finds time to indulge in her passion. She set limits on orders as her strict traditional ways of cooking reins her in from accepting more. Beena is at her happiest when her husband Rajan Bhat and daughter Deepa chip in.