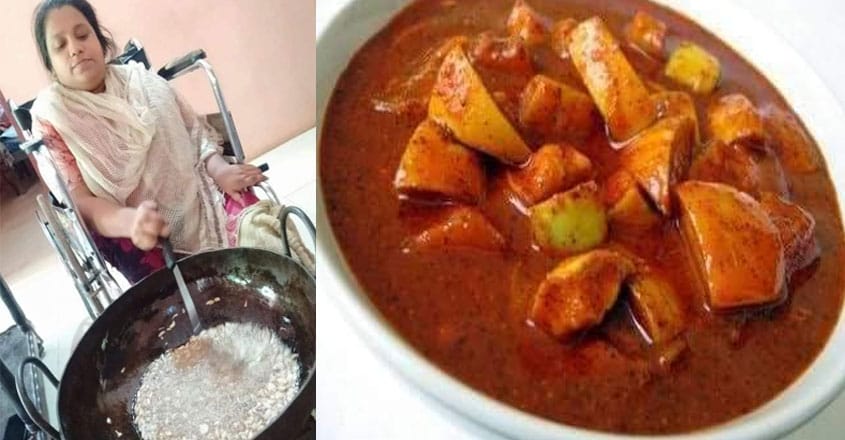 She's wheel chair-bound, but always on the move. To be precise, her hands are. They are for ever chopping, sautéing or stirring. Its pickles that she turns out, tasty and unadulterated. Pickles for a livelihood. That's the story of Deeja.
Physical disability has not pulled her down, but it takes solid hard work to see her dreams getting fulfilled. And like all others she has her dreams. But they are well within reach. All she wants is a comfortable house she could call home. A small cozy nest. Two rooms, a big bathroom and a dream kitchen are the stuff of her dreams. The bathroom has got to be big enough for her to maneuver her wheelchair inside and then help herself up.
Therefore, it's through pickles that she hopes to raise resources for her house. The small house she lives in now has already been pledged to the bank. So she has to slog it out to pay off the bank debts. The young woman poured out the longings of her heart through her Facebook post which has by now caught public attention.
The post begins with a longing for a dwelling. The place she lives in now is not hers, but the bank's. If she can remit Rs 3 lakh, she can redeem her modest pad. So that's why she has thrown herself into Nymitra, her brand of pickles.
A dream house is predominantly in her thoughts, a small house set amidst a patch of green. Then of course, there's that kitchen, where she spends all her time in a bid to get Nymitra all over market shelves. She's proud of her pickles, which she says is free of all pollutants and is as healthy as it can be.
It's Naushad Khan ikka who does all the running around on behalf of Nymitra. And of course, there's her mother and sister solidly behind her with all their love and care.
Deeja dreams of a day when Nymitra will be a strong presence in all homes. Arrangements are in place to courier the pickles to any place in India. For more details on her pickles or her dream home, call or message Deeja on 7902375735.