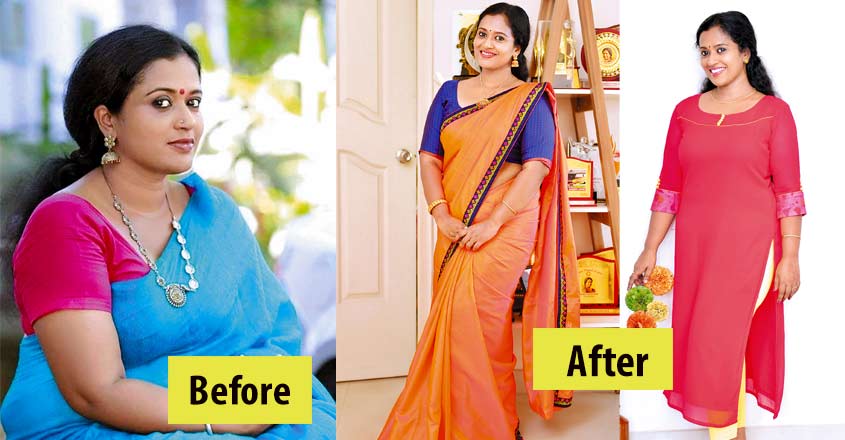 The weight loss story of TV serial actress Manju Pathrose was a talking point on social media platforms.
Those who have seen Manju in the reality show 'Veruthe Alla Bharya', would be rather amazed to note the visible change in her physique.
She was able to cut down from 90kg to 74kg in a matter of seven months. And Manju recounts the not-so-happy route she had to take to be in that state.
Recollecting her foodie days, Manju said eating was the order of the day.
"When I travel to my home in Kochi from my husband's house in Kottayam, there would be a huge food packet laden with jilebi, laddu and sweet porotta among other things. That packages used to fill me up with joy," a gleeful Manju said.
"As soon as I begin a journey, I would start feeling hungry. That's why I come prepared with the food package. Once in the train, I do not waste time by looking at the things around me. I will open the packet and gorge on the goodies.
"On seeing this, my husband Sunil would lament 'What's this… How much are you eating?"
Manju said even the very sight of sweet dishes at bakeries would tempt her. "Don't even get me started on the non-vegetarian dishes. I didn't even believe it was possible to eat the rice meals without fish and chicken."
However, the popular actress, who got transfixed on seeing delicacies, would be petrified on seeing herself in the mirror.
"I began to look an oddly shaped mess even in the traditional attire of sari. It didn't please me either if try to hide my ever-growing tummy by wearing a churidar...'
The channel shift
"That I started working in the programme 'Veruthe Alla Bharya'. People at the location started advising me on my food habits as I continued to gorge on delicacies. Then I started appearing on TV shows and movies, I was nicknamed after the hefty vehicles such as 'tipper' and 'goods autorickshaw'.
"Such taunts started affecting me. Though I tried to console myself, it was not helping me. I then detested from going out and slowly began to withdraw from the outside world. I am sure anyone who has gone through weight-gain issues would have had similar experiences," she pointed out.
Manju has always had a body prone to weight gain. Once she had a baby, Manju's hunger for food multiplied and she became a sizeable figure.
Even though Manju had the desire to reduce weight, she was not able to compromise on food.
And to top it all, the very thought of exercises would make her feel lethargic.
"One day my husband said that actress Manju Pillai wanted to talk to me. She also had weight gain issues and later shed several kilos through exercise and diet. However, I didn't call her thinking these plans were not for me.
" A week later my husband chided me for not making the phone call and I had to. She urged me to call her dietician and said the diet plan was not strenuous. I was still not ready to go through the weight-loss procedure," Manju said.
I was taunted again over my weight as I stepped out. On returning home, I called the dietician and we had a long chat. She asked me everything from the food I had to how I slept," said Manju on her road to recovery.
Every morsel was scrutinised
When the diet began, Manju weighed around 90kg and the dietician put her on various diet plans spanning two-weeks.
The dietician did not cut out meat from her menu, she just ensured that they were taken in a much healthier manner. Chicken curries were encouraged and the fish was to be prepared without using much or any oil.
Egg can be had in any which way - boiled or scrambled. There were no restrictions on oats, barley, and ragi but rice and wheat products that were high on carbs were omitted. Instead traditional dishes like aviyal and veg curries became her lunch menu sans the rice.
"I carried three boxes to my shooting location. One for my costume, and the other two for my induction cooker and utensils along with meat and veggies," Manju explained.
"If the shooting was at 6am, I would get up at 4am and cook. I was told it was ok to drink one cup of sweetened tea. Later I even abandoned that. I started liking the real flavour of tea though it was initially difficult to drink it without sugar," she said.
"When I went to parties, I didn't stop myself from eating meat. If it was a traditional sadya, I would not take rice but just eat the vegetarian dishes. People would goggle at this, but I had learned to ignore that," she said with pride.
However, she did not follow any strenuous exercise routine.
She was able to reduce 16kg in seven months and reach 74 kg. "But some people lament that the earlier Manju was better and I pray steadfastly to stand rooted in my current diet plan," she said with a shudder.
Manju's secret tips
Drink lots of water.
Avoid food that is high on carbohydrates, and sweets with lot of calories.
Avoid rice, and eat lot of vegetable dishes.
Meat should be had in the curry form.
Drink vegetable juice frequently.
Someone like your mother, husband or dietician should motivate you daily as it would do you good.