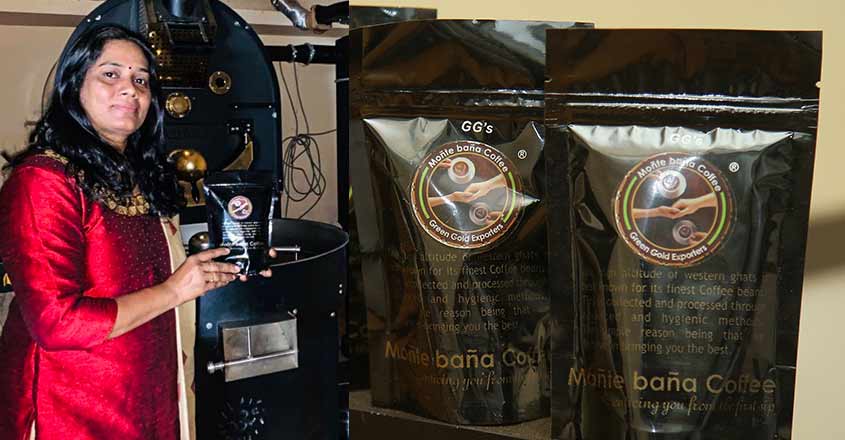 This homemaker is scaling great heights in a business venture that could flourish both in domestic and international markets. Shanti Palakkal is tasting success with roasted coffee beans and coffee powder. As Shanti's company, the Green Gold Exporters at Maniyankode in Wayanad district, is focusing on making inroads into the foreign market, there is only limited stress on local markets.
Beans from her coffee estate
First grade coffee beans are handpicked from Shanti's coffee estate for producing various products. High quality coffee beans are also sourced from other estates, including those taken on lease, at a rate of Rs 200 to Rs 250. The availability of world-standard raw materials in abundance augurs well for the coffee industry. The highly popular Arabica variety stands out among coffee lovers across the world. Arabica is used for brewing expresso-based cappuccino, which is a hit among foreigners.
From counselling to entrepreneurship
After getting married, Shanti, who has a Masters in Psychology, was involved in counselling. "I decided to start a business venture to utilize free time effectively, provide employment and add value to a traditional product," she says. Shanti's husband Prithviraj too gave ample support to her.
Quality coffee beans are processed from ripe red coffee cherries after they are thoroughly dried and peeled in a mill. Green Gold Exporters select the AA grade beans and later they are graded with the help of imported machines. The company, which started operations three years ago, roasts these beans, and it also doesn't compromise on the quality of coffee powder.
Main focus is exports
The firm is eyeing the markets in Malaysia, Saudi Arabia, Australia and Dubai in the UAE. The products have elicited good response and the company has a presence in local market too. The reasons for the good acceptance are:
Only AA quality beans are picked.
Traditional Wayanad coffee is used.
Chicory is not added.
Coffee cherry skin is totally avoided.
The domestic price of roasted coffee beans is between Rs 600 to Rs 700, and the coffee powder is sold at Rs 650 to Rs 750. The total sales is between Rs 10 lakh and Rs 11 lakh, and the net profit could be 20% to 30% of the sales. The market is quite robust and the situation is such that all orders could not be met. The production too has to touch the optimal level.
Imported machinery
The machines imported from Italy are used for roasting and grading purposes. There are two roasting machines in the unit, and the stitching, sealing and weighing machines were bought locally. The total spending on machinery is close to Rs 50 lakh. The unit, with five workers, has a processing capacity of close to 2.5 tonnes.
The next step is to optimally use the plant, canvass orders, strengthen distribution network and export products to more countries, among others. Anyone can plunge into coffee business as there is limited credit trade in this segment, adds Shanti.