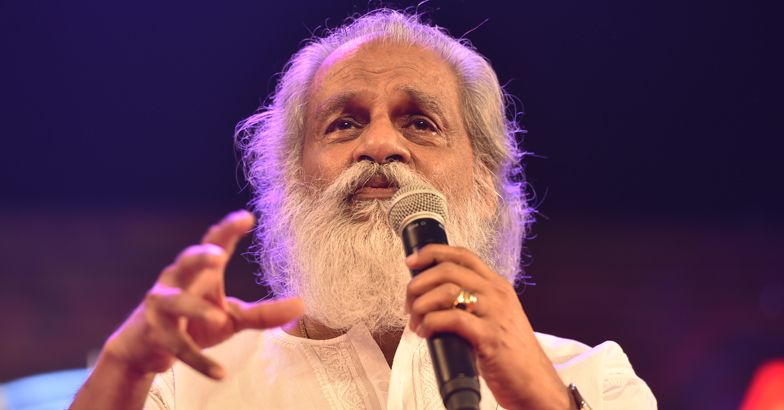 (From the remarks made by the author at a ceremony to confer the C R Kesavan Vaidyar Award 2019 on legendary singer Dr K J Yesudas at Irinjalakuda, Kerala, on December 2, 2019.)
I am greatly honoured to be invited to this ceremony to confer the C R Kesavan Vaidyar Award 2019 on Dr K J Yesudas. It brings me memories of the time we used to meet Yesudas and Prabha at least once a year in different parts of the world. One of the privileges of the IFS is the opportunity we get to meet and interact with celebrities from the homeland. From 1980 to 2004, we had the privilege of spending time with them, listening to his music and even hosting them in our homes. The guest suite in the ambassadorial residence in Vienna in which they stayed has been named the "Yesudas Suite"! Some of my successors have written to me asking who this person is and, having heard from me about him, have decided to retain the name.
After we returned home some years ago, it is very rarely that we meet or listen to him live. Today, thanks to Dr and Mrs Ravi, whom I remember from a previous meeting, I have the opportunity to meet him and participate in this ceremony and also speak about him, as I have done many times in the past. In those speeches, I used to speak how Yesudas had shaped the people of my generation in Kerala. He gave us our dreams, our devotion, our taste for music, our passions, our secularism, our charity and even our forebodings of death. But I shall not venture into those as I speak to this audience, which is composed of his admirers and friends, who know him better than me.
In fact, as we can see from the trophy presented to the "Ganagandharvan", today we are celebrating the lives of three revolutionaries of Kerala: Sree Narayana Guru, Sri C R Kesavan Vaidyar and "Padma Vibhushan" K J Jesudas. They are not revolutionaries who shed blood for change, but brought about irreversible changes in their fields, social, medical and music. Reformers tinker with the system, revolutionaries transform it forever.
Giving awards to Yesudas is like making offers to God. We do it for our own satisfaction and sense of duty, as he is beyond the stage of counting his awards and trophies. It makes no difference to him whether it is a handful of flowers or a bag of diamonds we offer to him. His smile and blessings are showered on every one regardless of our wealth and rank. He honours us with his presence and favours us by accepting whatever we offer.
As I pondered over this award from the home of Chandrika, founded by C R Kesavan Vaidyar, I thought of its appropriateness in several ways. Both are disciples of Sree Narayana Guru and both have created a mass following for their products. For most Malayalees, there is no world without Chandrika and the Gandharva sangeetham. Even more importantly, both are exempt from applying the modern dictum, "innovate or perish." Even the famous Coca-Cola Company decided at one time that it should provide a new flavour, but the consumers rejected it and demanded the classic coke. So the management gurus now say that the established enterprises may do well not to run after innovation. I have noticed that Chandrika has not changed anything except its wrappers and still enjoy the lion's share of the market. For Yesudas too there is no demand for innovation as his voice and techniques are deeply embedded in the psyche of the music lovers. The only innovation he has made is in his appearance. The youthful black hair has changed to the divine white, but his appeal has remained unchanged.
As I said, I have made many speeches on Yesudas, but I recall the only speech he made on me. This was when I had returned to the United States on my third posting. The Indian community in Florida gave me a reception to which the Ganagandharvan was also invited. He patiently sat through the numerous speeches about me and when he was asked to speak at the end, he said he will sing something instead. He just sang a couple of lines from one of his classical creations which said, "Oh beloved Sreenivasa, never leave us again!". That was more eloquent than all the speeches made that evening. Today, as we celebrate his lifetime achievements, I cannot sing, but I can pray to him fervently never to leave us again!