Kolkata/Agartala/Shillong/Kohima: Exit polls by various channels predicted a hung house in Meghalaya, a win for NDPP, backed by the BJP in Nagaland, the two states that went to polls on Monday, and seemed to oscillate between predicting a clean sweep for the BJP to a hung house in the state of Tripura, where a new party the Tipra Motha may emerge as a potential king-maker in the polls, held a week back.
Meghalaya
Both the Times Now ETG Exit and India Today-My Axis polls predicted a hung house in the state described as 'Scotland of the east', even though Meghalaya's Chief Minister Conrad Sangma remained confident of victory.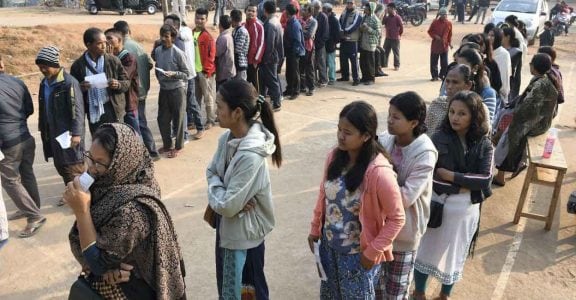 The Times Now ETG Exit poll predicted Sangma's NPP would get 18-26 seats, Trinamool Congress led by former chief minister Mukul Sangma would take 8-14 seats, UDP another 8-14 seats while BJP would improve its tally from two to anything between 3-6 seats.
India Today-My Axis predicted that NPP would bag 18-24 seats, short of majority, forcing it to look towards other parties to shore up figures. It also gave UDP 8-12 seats, Congress 6-12 seats, TMC 5-9 seats and the BJP 4-8 seats.
The Zee News-Matrize exit poll predicted that the National People's Party will retain Meghalaya with 21 to 26 seats. Also It predicted 8-13 seats for Trinamool and 6-11 for BJP.
Nagaland
In formerly insurgency-hit Nagaland, the NDPP is slated to get 28-34 seats with a vote share of 33 per cent, according to India Today-My Axis.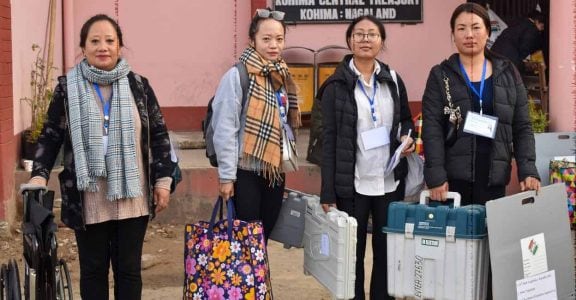 The poll also gives BJP a surprising 16 per cent vote share and 10-14 seats, possibly coming from eastern Nagaland where it focused its campaigning. Congress is predicted to get 10 per cent votes and between 1-2 seats and the rump of the Naga People's Front which remained after some 21 MLAs joined NDPP is forecast to get 13 per cent vote share and between 3-8 seats.
Times Now similarly predicts 27-33 seats for NDPP, 12-16 seats for BJP, and 4-8 seats for NPF. While Zee News-Matrize is giving 35-43 to NDPP-BJP, it has also predicted 2-5 seats for the NPF and 1-3 seats for the Congress.
Tripura
The crucial but tiny state of Tripura which the BJP had grabbed from the CPI(M) in a surprise win in 2018 had exit results from three pollsters which varied substantially. IndiaToday-MyAxis indicated that the BJP would get between 36-45 seats in the 60-member assembly by garnering 45 per cent of the popular vote, most of it in the plains where Bengalis live, giving it a spectacular win.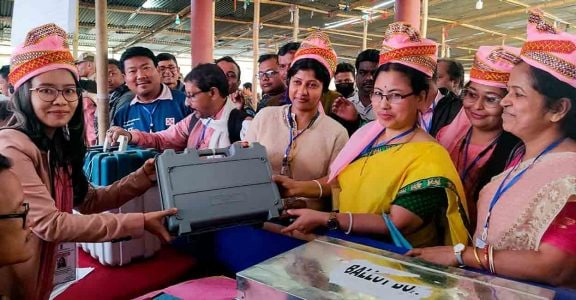 It also predicted the Left-Congress combine would get a paltry 6-11 seats with just 32 per cent of the popular vote, a huge slide from its 43 per cent vote share in 2018. The newbie party Tipra Motha, founded by former royal Pradyot Kishore Mankiya Debbarma, is shown as gathering 9-16 seats from the tribal areas with a concentrated 20 per cent of the vote share.
The Left-Congress combine, however, doubted the exit polls and Congress leader Sudip Roy Burman said, The BJP will end up in single digits people have voted against the lawlessness prevailing in the state. It was a revenge vote against the party in power.
However, the ETG- Times Now poll indicated that BJP would remain the largest party but with a substantial draw down from its earlier tally of 36 to just 24 seats, while Left-Congress would get 21 seats with Tipra Motha snatching 14 seats in the tribal areas.
The ZeeNews-Matrize exit poll, on similar lines, predicted BJP and its ally would win 29-36 seats in Tripura, while the Left-Congress would get between 13-21 seats, and Tipra Motha Party would get between 11-16.
Former militant-turned-Tipra Motha President Bijoy Kumar Hrangkhwal had told PTI before the elections that in case of as hung house his party would consider supporting any party which conceded or furthered its demand for a separate Tipraland state.
"In a post-poll scenario, we are willing to support from outside (in case of a hung house), but you have to agree on paper and on the floor of the House that a new state will be created, he had said.