New Delhi: India's top wrestlers have decided against hurling their medals into river Ganges after farmer leaders like Naresh Tikait persuaded them otherwise.
The wrestlers had arrived at Haridwar on Tuesday to hurl their medals into the river Ganges in protest against the delay in arrest of the head of the Wrestling Federation of India over sexual harassment allegations.
Naresh Tikait took medals from the wrestlers and sought five-day time to sort the issue.
Wrestlers, including Sakshi Malik, Vinesh Phogat and Bajrang Punia, along with hundreds of their supporters, had reached Har ki Pauri to immerse their medals in the Ganga river. Sakshi, Vinesh and her cousin Sangeeta were seen sobbing as their husbands tried to console them even as scores of their supporters formed a cordon around them.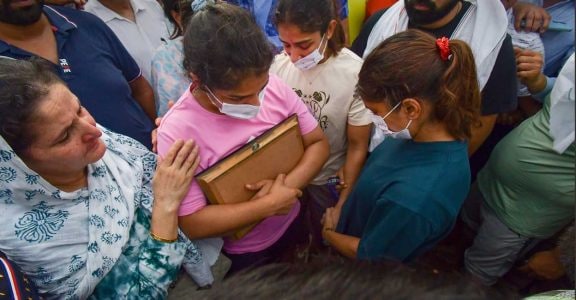 Sakshi Malik is a bronze medallist at the 2016 Olympics, Vinesh Phogat is a World Championships bronze winner and Bajrang Punia is another Olympic medallist.
The wrestlers stood for about 20 minutes in silence after reaching Har ki Pauri. They then sat on the banks of the river holding their citations and looking emotionally distressed.
The wrestlers had been camping in New Delhi since April 23 demanding action against Wrestling Federation of India (WFI) President Brij Bhushan Sharan Singh, who has denied any wrongdoing.
Singh, a member of BJP, could not be reached for comment on Tuesday. Several of the protesting wrestlers were briefly detained by Delhi Police on Sunday and their camp site was cleared after they tried to move towards India's new parliament building. Singh has been stripped of his administrative powers but the wrestlers are seeking his arrest over allegations of sexual harassment against female wrestlers.
Wrestlers including Olympic medallists Sakshi Malik and Bajrang Punia issued a joint statement on Tuesday spelling out their next step in the north Indian town of Haridwar."For us, our medals are sacred, and so is the river Ganges," they said in a statement in Hindi. 
"This holy river is the perfect custodian of our medals, not the system that shields the offender."The athletes said that after throwing their medals into the river they would return to New Delhi to begin a hunger strike at the India Gate war memorial. 
Indian cricketer Anil Kumble tweeted in support of the athletes on Tuesday.
"Dismayed to hear about what transpired on the 28th of May with our wrestlers being manhandled. Anything can be resolved through proper dialogue. Hoping for a resolution at the earliest," he said.
(With Reuters inputs.)