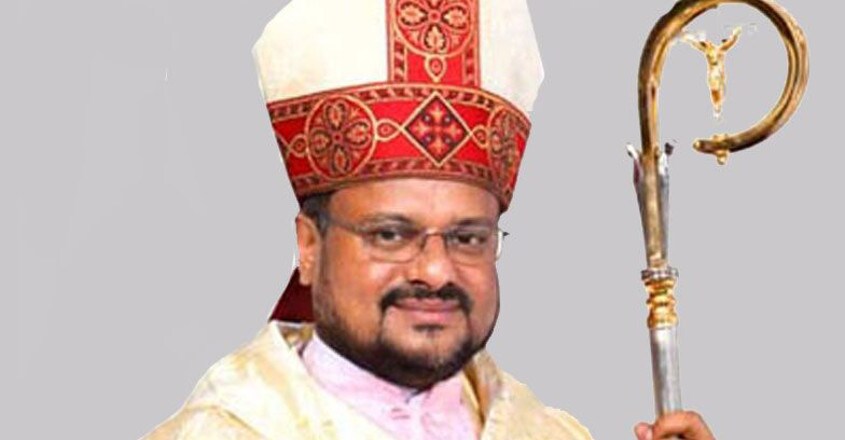 Jalandhar/Kochi: The Kerala police's interrogation of Jalandhar Diocese bishop Franco Mulakkal, accused of raping a nun in a convent, ended after nearly nine hours in the wee hours of Tuesday.
The police team from Kottayam, led by DySP K Subhash, left the Bishop's House at Jalandhar around 4.45 am on Tuesday.
The cops also seized the bishop's mobile phone.
Subhash said the bishop answered the questions posed to him. The questioning had started around 8 pm on Monday.
Indications are that his arrest was not likely soon as more scientific evidence had to be gathered.
The probe team is likely to return to Kerala soon after collecting evidence.
According to reports, a medical examination of the bishop is also likely. The bishop's counsel said Mulakkal would cooperate with the interrogation.
Unruly scenes
Unruly scenes were witnessed at the Bishop's House on Monday evening after a group of believers attacked mediapersons clicking photos of the bishop.
Since morning, believers had thronged the Bishop's House after reports that the bishop was to be grilled by cops.
Though earlier reports said that bishop was being questioned, Mulakkal returned to the Bishop's House only in the evening. As mediapersons tried to take his photographs, the crowd attacked them. Several scribes suffered injuries and their equipment damaged.
The Punjab police had stepped up security in the area.
The Kerala police team had been waiting at the Bihsop's House since morning to question Mulakkal. Statements of two of bishop's aides were also recorded.
Earlier on Monday, the Kerala government had told the high court that the bishop was likely to be arrested.
The government claimed that the delay in the probe was due to the fact that the case dates back to 2014.
Police sources said evidence collection is in the final stage.
A few days ago, a police team from Kottayam questioned nuns at the Mission of Jesus Sisters (MJS) convent in Jalandhar cantonment area for eight hours.
According to sources, the six-member police team, including a woman, questioned the three nuns, including mother superior of the mission, Sister Regina. The nun, who complained against the bishop, was part of MJS, Jalandhar.
In her complaint to the Kottayam district police chief, the nun had accused Mulakkal of having sexually exploited her at a small town near Kottayam between 2014 and 2016.
Clergymen supporting Mulakkal had said that the nun had filed the complaint against the bishop after a priest, also an official of the Jalandhar Diocese, complained that her relatives had threatened the bishop.
The bishop has been claiming innocence in the case right from beginning.
Read more: Latest Kerala news